Dr. Dara Stanley SFI award 2021
Dr. Dara Stanley announced as SFI Early Career Researcher of the Year 2021
The winners of the prestigious 2021 Science Foundation Ireland (SFI) Awards have been revealed today, 4th November, by Professor Mark Ferguson, SFI Director General and Chief Scientific Adviser to the Government of Ireland, at the annual SFI Science Summit.
Dr Dara Stanley, UCD School of Agriculture and Food Science was named SFI Early Career Researcher of the Year with UCD's Professor William Gallagher was named SFI Researcher of the Year. Director of UCD Conway Institute for Biomolecular and Biomedical Research, Professor Helen Roche was awarded the SFI Mentorship Award and postdoctoral researcher Dr Aileen Doran was awarded SFI Science Image of the Year.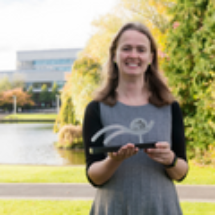 Acknowledging the award winners Professor Ferguson said: "The annual SFI Science Awards is an opportunity to recognise some of the very best outputs and achievements of our research community. I want to congratulate the award winners on their significant achievements, as well as their dedication and determination, in what has been another eventful and challenging year for our research community. I am confident that their success will be a source of inspiration to their peers and, more importantly, to the next generation of researchers in Ireland.
UCD Vice-President for Research, Innovation and Impact, Professor Orla Feely said: "We are immensely proud of all our winners in this year's SFI Awards. We recognise the prestige and significance of this awards scheme in marking our researchers' outstanding contributions to scientific progress and discovery, and are delighted to have their exceptional achievements celebrated in this way.
"Dr Dara's Stanley's SFI Early Career Researcher of the Year award recognises both the far-reaching impact of her work on pesticides and pollinators, and also her strong commitment to engaging members of the public.
SFI Early Career Researcher of the Year 2021
Dr Dara Stanley is an Assistant Professor in Applied Entomology at UCD School of Agriculture and Food Science and a Fellow of UCD Earth Institute. She was the first to explore how pesticide use might affect the pollination of crops, going on to publish a seminal paper in Nature in 2015 (10.1038/nature16167). She further developed this research on threats to pollination services through the ongoing SFI-funded SUSPOLL project (Sustainable Pollination Services in a Changing World).
Dr Stanley spearheaded the movement towards researching non-insecticide pesticides and has become a crucial voice highlighting the knowledge gaps in assessing the impacts of these chemicals on bees, publishing a systematic review on the topic in 2019. She instigated and is co-ordinator of PROTECTS (Protecting Terrestrial Ecosystems Through Sustainable Pesticide Use), funded by DAFM (€ 1.1 million) across five institutions.
Outputs from her work have been used by the European Food Safety Authority as part of the evidence base for assessing risk of neonicotinoids to bees in Europe. The work was also used to support the All-Ireland Pollinator Plan research objectives.
In addition to many academic engagements, Dr Stanley also organises 'Walks and Talks' with the general public at multiple locations and events of ecological interest, including the Burren in Bloom Festival, BurrenBeo, Eureka Science Festival, for Birdwatch Ireland Carlow, Galway Museum, for multiple bee keeping associations and UCD World Bee Day.
She is also a co-organiser of Soapbox Science Galway (2017-2019) and Soapbox Science Dublin (2019-2021), that has brought over 70 female and non-binary scientists to the streets to talk about their work with the public – and she provides science communication training for all speakers.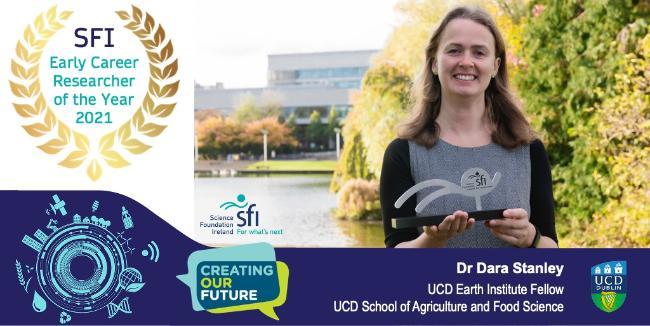 UCD School of Agriculture and Food Science
Agriculture and Food Science Centre, University College Dublin, Belfield, Dublin 4, Ireland. T:
+353 1 716 7205
|
Location Map