Dr Dorothy Conaghan | Ireland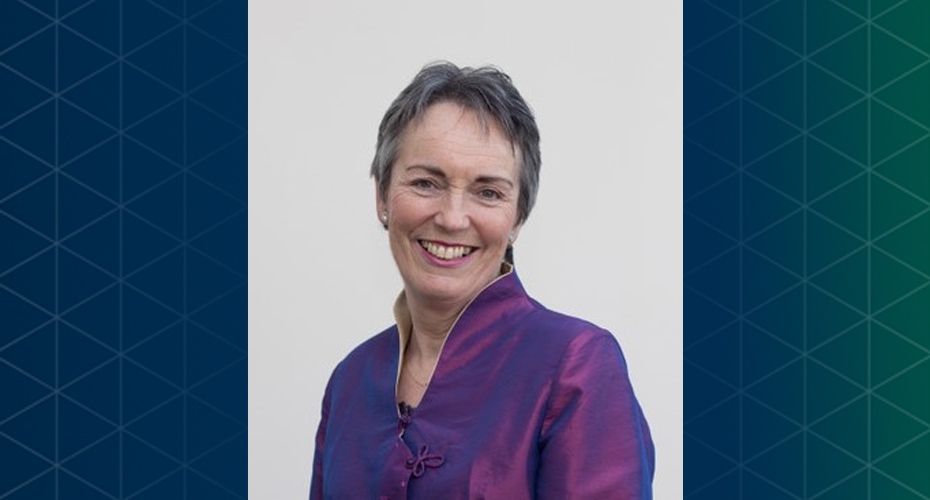 Dorothy Conaghan's career has spanned over 30 years, including time as a French and mathematics secondary school teacher, and a music lecturer at TU Dublin. She is also a violinist and conductor.
She holds a PhD in Social Justice (2020), an MSc in Equality Studies (2015), and a BMus and BA (1979). Her PhD research focuses on policy, provision and barriers to access to instrumental music education in Ireland and in Europe.
Dorothy is also an Affiliate Research Scholar at UCD, a Board Member of the International Music Council and Dublin Choral Foundation, and an Associate Member of the UCD Centre for Human Rights. Finally, she is on the Management Committee of the Patient Voice in Cancer Research (PVCR), based at the Conway Institute at UCD.
1. What made UCD stand out as the place you wanted to pursue your studies?
I first attended UCD during the 1970s, studying French and mathematics and later music. There was very little choice in higher education back then; I chose UCD simply because I knew someone who had gone there. I returned in 2013 to pursue a Masters and PhD in Social Justice with the wonderful Professor Kathleen Lynch, founder of Equality Studies and Professor at the School of Social Justice. I was familiar with Professor Lynch's ground-breaking, pioneering work and activism in the field, especially in Ireland.
2. What was your UCD experience like – the social scene, classes, lecturers?
In the 70s the classes and lectures were quite formal: blackboards were used extensively, especially in maths class, and essays were handwritten and often submitted under the office door! Some examinations were held in what is now the main hall of the National Concert Hall on Earlsfort Terrace, with results posted on a noticeboard.
A large part of my own social scene was centred around the Music Department, which was and still is in the Newman Building. Weekly choir and orchestra rehearsals took place at Newman House on St Stephen's Green. I enjoyed playing violin in the college orchestra and singing in the St Stephen Singers, the precursor of the UCD Chamber Choir.
When I returned to study in 2013, the approach to learning was very different. Having spent my career as a teaching and performing musician, I had very little experience with computers. I couldn't type, let alone copy, paste, or send an attachment. I didn't know what modules were (they were called subjects in the 1970s). The amount of information that could be accessed online was truly overwhelming and I missed printed books.
However, the most exciting aspect of the experience was the unmitigated space for critical thinking, a space which at UCD is encouraged right from the start at undergraduate level. My work greatly enhanced my recent experience at UCD as a tutor on the Law and Social Justice course. The mix of ages, backgrounds and experiences I encountered in class contributed enormously to my own research and knowledge.
3. Tell us about a couple of UCD experiences or moments that have stayed with you.
Playing at the annual UCD concert at the Aula Maxima, beside Newman House in the 70s. More recently, attending enlightening lectures at the then School of Social Justice.
4. What is your earliest memory of your passion for music? Are you from a musical family?
My earliest memory of music was definitely at a young age. Both my parents sang as amateurs in the Dublin Grand Opera Society and in choirs; they were lifelong music lovers. They regularly invited friends to visit for musical evenings.
5. Can you tell us about the work you do with the International Music Council?
In 2021, I was elected to the Executive Board of the International Music Council (IMC). Founded in 1949 by UNESCO, the IMC is the world's largest network of organisations and institutions dedicated to supporting and advocating for the development of sustainable and fair music practices and rights for its members.
My work focuses on advocacy and fairness in accessing professionally-led, state-supported music education, especially in Ireland. I am also looking at how UNESCO's Five Music Rights are perceived and understood in the Irish context.
6. How accessible is musical education in Ireland, do you think enough emphasis is placed on it for young learners?
In Ireland, music education is divided into generalist or classroom-based music education and specialist tuition. The good news is that a generalist music education is available to every child in Ireland during their primary school years. However, due to variances in the ability and prior training of the generalist, and primary classroom teacher, this music education does not always happen, nor is the learning of a musical instrument and musical literacy guaranteed on a universal basis.
As a result, parents have to go looking for specialist teachers, which are largely accessed through private music teachers or music schools on an extracurricular, fee-paying basis. Unlike other European countries, no specialist instrumental or vocal teachers are employed by the state in either primary or secondary schools. Any such teachers working in schools do so as a private arrangement between the school and the music teacher. This is problematic since playing a musical instrument can count for up to 50% of the Leaving Certificate music examination.
Ultimately, whilst there is a great emphasis placed on music for young learners, there is no universal access to music teachers, one must 'pay to play', and rely entirely on parent support and ongoing commitment.
7. What is the proudest moment of your career to date?
My proudest moment was being awarded the Mary Kelly Scholarship for Social Justice. This was awarded by the President of UCD for outstanding lifetime achievement in promoting equality and social justice. In my case, this related to my activism in highlighting the barriers to accessing instrumental music education in Ireland.
8. What have been the most challenging aspects of your career?
I founded the first youth chamber orchestra in North Dublin, the Young Dublin Symphonia. Being the conductor, musical director, teacher and administrator of both the orchestra and private teaching practice was an enormous challenge, especially when I had two young children.
9. How has your career impacted the way in which you see the world?
Perhaps I will turn that question around, my career has been impacted immensely by my commitment to fairness. To this end, my most recent career move saw me switch from specialist music teaching and orchestral conducting to post-graduate research in Equality Studies and Social Justice at UCD. This allows me to be better equipped to examine fairness of access to instrumental music education in Ireland.
10. Tell us a bit about your life outside of work, such as your family, and hobbies.
I live in Malahide, Co Dublin with my husband Joe Varley. I have two children, both UCD graduates themselves, Alice, a business graduate, who lives and works in London, and Vincent a medicine graduate, who, having worked in Australia for four years, is now back in Dublin. Both were awarded Symphony Orchestra Scholarships in violin and cello respectively throughout their years at UCD.
My hobbies are hillwalking and cycling with my treasured group of friends, the 'Stopalots', who keep me grounded, positive and very fit. Sailing is a summertime activity, which I adore, regardless of the weather. I currently sail on a Junk Rig, or Hong Kong rig called 'Long Time' out of Malahide. At any time of year, I enjoy playing the violin.
11. What is the best piece of advice you've ever been given?
Keep life simple, and know when you have enough.
12. What is your favourite piece of music and why?
This is difficult as I have many, many favourites in all genres! One piece that stands out is 'On Hearing the First Cuckoo of Spring', from the Florida Suite, by Frederick Delius. This was one of the first vinyl records I owned – a work that is full of joy and optimism.
13. Describe yourself in three words.
Persistent, optimistic and loyal.
UCD Alumni Relations
University College Dublin, Belfield, Dublin 4, Ireland. T:
+353 1 716 1447
| E:
alumni@ucd.ie
© 2023 All Rights Reserved.