Fiona Byrne Ryan | Michigan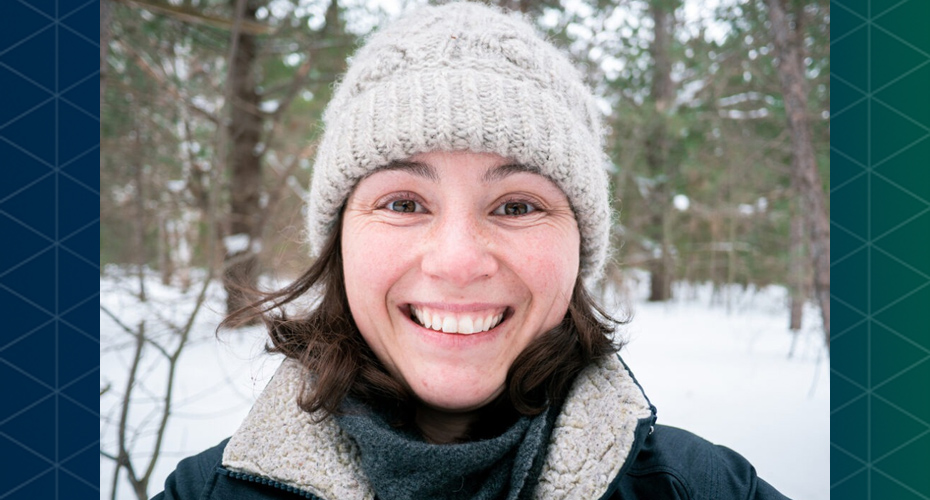 Fiona is a landscape architecture graduate who now lives in the US. In 2021, Fiona and her husband sold their home and business to live a more sustainable life. They started an online community called Truthfully Living. The couple, their two-year-old son and their dog have been living a nomadic life out of a tent for the past six months. They are currently based in Northern Minnesota.
1. What made UCD stand out as the place you wanted to pursue your studies?
I have always had a huge interest and connection with the Earth. Growing up in Dublin, as with all cities, our interaction with the outside world is dependent upon those who design it. It's funny how in life when you hear something for the first time, it seems so obvious. That's what happened when I learnt about landscape architecture. The importance of such an area of study cannot be underestimated. UCD is the only university in Ireland to offer an undergraduate degree in this space so that's where I decided to go.
2. What was your UCD experience like – classes, lecturers, societies, the social scene?
Heading to lectures in the big theatres can certainly feel a bit daunting when you've come from a small school. As sailing was a big passion of mine growing up, I joined the UCD Sailing team right away and this gave me a sense of belonging.I loved how the landscape architecture degree is largely project-based. Every semester we would have a field trip and focus on the design of that place. Over the course of the program, I received a deep understanding of how humans interact with different types of places. To be honest, my college years were extremely challenging due to personal circumstances. During those times, UCD was very supportive, giving me extra space and care. This took a lot of pressure off and ensured I graduated with the rest of my class.
3. Are there any experiences you had as a student that you carry with you now?
Being on the UCD Sailing team in first year was definitely a highlight! Annalise Murphy and I sailed together and we had a fantastic team. I loved travelling around the country for events, improving my sailing skills, and making friends. Oh, and we won the varsities that year!
4. Given you are a landscape architecture graduate – what are your thoughts on the UCD campus from an architectural perspective?
As you can tell on those sunny days on the UCD campus, the lake provides a wonderful place for students to take some time off and just be. As I learn more about the benefits of being in the woods, I think there could be more natural landscapes introduced into the campus.
5. You have travelled quite extensively, what has been your favourite destination?
That's a hard question to answer! Before I started my graduate visa in the US, I travelled solo around Guatemala. Lake Atitlán is definitely somewhere I want to go back to! The lake is situated in the Guatemalan Highlands of the Sierra Madre mountain range. There are lots of villages dotted around its shoreline, which you must travel to and from by boat. The crystal clear water, small winding streets, bright colours and kind people made it a standout place.
6. What brought about the desire for you and your family to leave your home and sell your business for a different life?
A little backstory first – I travelled to Detroit while on my graduate visa in 2016 to get involved in the urban farms taking place within the city. This is where I met my husband Brandon. Right away we started working together, building our real estate company. Fast forward six years to a moment that changed everything. After receiving our biggest paycheque, we looked at each other and realised we were left feeling unfulfilled. In the months that followed, we let go of our business and an inward journey of self-discovery began.
We have always had a deep connection with the Earth. It became important for us at this time in our life to learn from those who have maintained their connection to the land over here on Turtle Island, known today as North America. We received a call to join Water Protectors in Northern Minnesota, and that's when we created 'Running Into a New Earth'. We ran 227 miles through the forest, to raise money for Water Protectors. Looking to the future, we see that the only way to make the right decisions is through our connection with the Earth.
7. Were family and friends supportive of your decision?
Thankfully my family has always been supportive of my ideas, even when they don't quite understand them. We were home (Dublin) in August 2021, and it wasn't until we told them our intention that it became real. When we got back we had six weeks to put everything into action, selling everything and figuring out how we were going to do this. My friends back home have been very supportive as well, helping us raise $2,000.
8. What is the moment when you knew you made the right choice?
From the moment I stepped out into the forest alone, I knew it was right. There was a huge level of discomfort and nervousness. I was well prepared with bear spray, satellite GPS, food, water etc and I had educated myself about the forest I was in. The nervousness came from my disconnection with the forests. I knew that if I am to live the life I know deep down I'm here to live, one which is in harmony with the Earth, then this is right where I need to be. This fear must be overcome and I am here, putting myself in a situation to do just that.
9. What have been the most challenging aspects of your transition?
The challenges have changed as our journey has progressed. In the beginning, sleeping in a tent at night and thinking every sound was a bear approaching was the biggest stress. Organising all our belongings on the days we move takes an extra level of patience and determination!
As winter approached we decided to stay up in Michigan's Upper Peninsula. The biggest challenge during the winter was gathering firewood when we just wanted to settle in for the night. What I've learned in life is that you often grow exponentially during hardships. I see now that the winter provides many lessons without the trauma that often comes with hardships.
10. What is a typical day for you and your family?
Over the winter we had two tactics come morning. When we were dealing with -26°C temperatures, we would prepare everything the night before and get into the car as quickly as possible, going to the local library or YMCA. Once the weather "warmed" to -10°C, we'd get the fire going and spend a comfortable morning in the tent. Without access to the internet, this time provided us with an amazing creative space, editing and writing our YouTube Videos, writing for our blog, and creating content and courses for our Truthfully Living Community. When we could access wifi, our time became very focused. Other than that, we'd be outside gathering felled trees and being with the forest. It was a very relaxing time.
11. How has your lifestyle impacted the way in which you see the world?
I've come to know that I belong to the world. This journey has been a spiritual experience for me. As I grow spiritually, the way I interact with my day has become a lot more intentional.
12. What advice would you give to someone who wants to take a similar step to you?
Stop thinking so much and follow your heart, which is where your intuition comes from. Stay calm in the challenge, because that too shall pass and there is a hidden lesson in there for you.
13. Do you think your priorities will be different in 10 years' time?
Yes. Right now this is a time of learning for me. As the years go on, the plan is to put these lessons into action.
14. Who are the most interesting or helpful mentors or advisors that you have had?
Good mentors have been hard to find. So if there is anyone reading this who thinks they'd be a good fit, please reach out!
I am excited though, we just arrived at the Hemp Farm of Wiona LaDuke. I admire what she has going on here: creating an alternative for fossil fuels while teaching the youth and adults alike about our connection to the land.
15. What is the most useful book you've read?
'Letting Go: The Pathway To Surrender' by Dr David R. Hawkins.
16. What is the best piece of advice you've ever been given?
From my Nana, "Don't worry about anything, it will always work out".
To find out more about Fiona and her adventures, you can check out this Irish Examiner article. Fiona and her husband Brandon also document their life on their YouTube Channel and on Instagram @wearebrandonandfiona. If you would like to find out even more you can check out or join the Truthfully Living community on www.truthfullyliving.com
UCD Alumni Relations
University College Dublin, Belfield, Dublin 4, Ireland. T:
+353 1 716 1447
| E:
alumni@ucd.ie
© 2023 All Rights Reserved.