NIBRT announce collaboration with University College Dublin
Monday, 10 June, 2019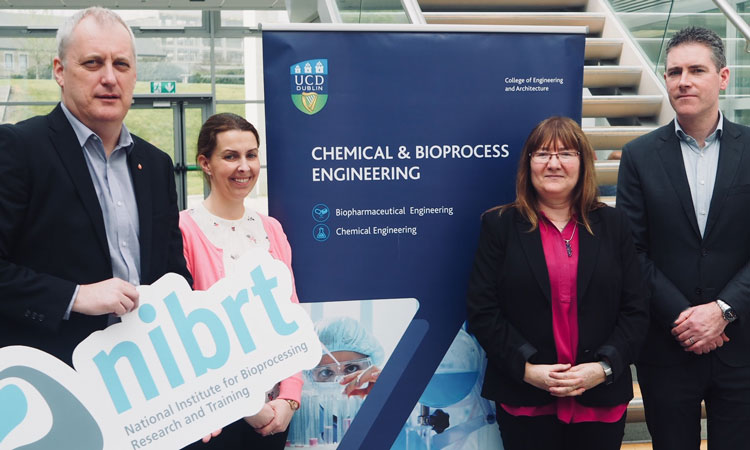 NIBRT announce collaboration with University College Dublin, to re-design the MEngSc Biopharmaceutical Engineering
This two year part-time programme is designed to provide substantial coverage of the scientific, technical, management and regulatory issues associated with the biopharmaceutical industry. This programme will offer an internationally recognised, high quality flexible curriculum, which follows the latest developments in science and technology. This programme is suitable for Science and Engineering graduates currently working in the pharmaceutical or biopharmaceutical industry who are looking to progress their career by obtaining a qualification which is highly relevant to the biopharmaceutical industry

World Class Facilities
The teaching for this MEngSc programme takes place in the NIBRT facility which is a purpose-built, multi-functional building replicating the most modern industrial bioprocessing facility. Classes will take place every Friday afternoon (during UCD term time) between 14:00 – 18:00 in the NIBRT Facility, Belfield Campus, UCD.

Course Content and Structure
The programme provides students with an understanding of the principle scientific and engineering challenges involved in the design, operation and management of biopharmaceutical production facilities. This is an advanced post-graduate degree programme offering a combination of lectures, tutorials and practicals delivered by university and industry experts.

Apply Now
This programme receives significant interest so please apply early online at www.ucd.ie/apply
For more information on the programme please email UCD College of Engineering and Architecture at eamarketing@ucd.ie
The Details

Course: MEngSc Biopharmaceutical Engineering
Date: September 2019
Entry Requirements: 4 year bachelor's degree with a minimum upper second class honours (NFQ level 8) or international equivalence in a relevant Engineering, Science or Technology programme
Location: UCD & NIBRT Fosters Avenue, Mount Merrion, Blackrock, Co. Dublin A94 X099.
Limited Places

NIBRT is a world-class institute that provides training and research solutions for the bioprocessing industry. Our mission is to support the bioprocessing industry by providing a unique learning experience for trainees in an environment that replicates the most modern industrial bioprocessing facility. In parallel, we also undertake leading edge research in key areas of bioprocessing in collaboration with industry.
Further information contact Killian O'Driscoll, NIBRT Director of Projects, killian.odriscoll@nibrt.ie,
+ 353 1 215 8100.