Dr Caitríona Osborne
Assistant Professor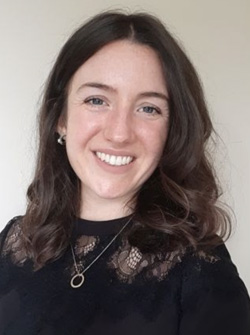 Irish Institute for Chinese Studies
University College Dublin, Belfield, Dublin 4, Ireland
E-Mail: caitriona.osborne@ucd.ie
Tel: +353 1 716 3003
Caitríona Osborne is an Assistant Professor in the Irish Institute for Chinese Studies. She currently teaches Chinese language and has previously taught Chinese Culture and Translation modules to undergraduate students. She also teaches the Chinese Teaching Methodology modules associated with the Professional Diploma and Master's in Teaching Chinese Language and Culture in UCD.
Caitríona was awarded her PhD from Dublin City University in 2020 during which she examined the effects of various teaching methods on beginner learners' acquisition of Chinese characters. Prior to this, she completed her BA and MA in Translation Studies with Chinese and Spanish in Dublin City University.
Caitríona is currently a member of the Irish Association for Applied Linguistics, the European Association of Chinese Studies, and is the current Secretary General of the Irish Association of Chinese Teaching.
Caitríona's research interests include:
Chinese language

Chinese language education

Chinese language pedagogy

Innovative methods for teaching Chinese characters to beginner learners

Translation (Chinese to English)
欧秋那,博士
助理教授
Irish Institute for Chinese Studies 爱尔兰中国研究院
University College Dublin, Belfield, Dublin 4, Ireland
E-Mail: caitriona.osborne@ucd.ie
Tel: +353 1 716 3003
欧秋娜是爱尔兰中国研究院的助理教授。她目前教授汉语,并曾为本科生教授过中国文化和翻译课程。 她还教授与都柏林大学的中国语言和文化教学专业文凭和硕士学位相关的汉语教学方法模块。
2020年,秋娜获得都柏林城市大学博士学位,当时,她研究了各种教学方法对初学者学习汉字的影响。之前,她在都柏林城市大学完成了汉语和西班牙语翻译研究的文学学士和硕士学位。秋娜目前是爱尔兰应用语言学协会和欧洲汉学学会的成员,并且是爱尔兰中文教师协会的现任秘书长。
秋娜的研究兴趣包括:
汉语

汉语教育

汉语教学法

向初学者学习汉字的创新方法

翻译(中文译成英文)