Judicial Review Conference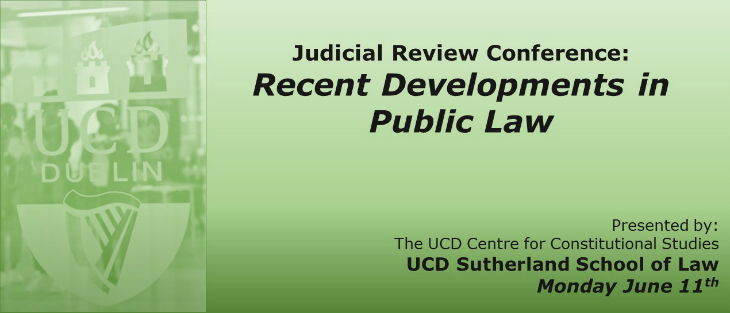 The UCD Centre for Constitutional Studies
Judicial Review Conference: Recent Developments in Public Law
Monday, June 11th
1pm to 7pm
Download the Conference Programme
This conference will provide a comprehensive guide to recent developments in Irish public law from leading academics and practitioners in the field. Speakers will provide up to date insight into recent changes in legal principles, practice and procedure across a range of areas, including judicial review, constitutional law, costs, financial regulation, planning, asylum and crime.
Fees:
Early bird rate (for bookings before Friday June 1st): €40.
Rate for students, NGOs, practitioners with less than 3 years experience: €40
Rate for members of the Centre for Constitutional Studies: €25.
General rate: €75.
The conference is the first in a forthcoming series of public law CPD events organised by UCD's new Centre for Constitutional Studies. If you are interested in becoming a member of the Centre and being kept up to date with events, visit our website here. Please note by becoming a member of the Centre you are entitled to a heavliy discounted rate for this conference. The membership form can be completed here.