Welcome to the Early Years Setting for Registered Students and Staff of UCD
There has been a crèche on the UCD campus for approximately 30 years. Over this time the crèche has seen many developments, growing from an initial forty-place facility into a nursery that now has provision for over a hundred children. The current purpose-built centre was refurbished in 2006 and our expansion was completed in Jan 2011. Oakmount Creche is situated near the Clonskeagh entrance of the campus. Located beside a beautiful woodland area, this one-storey building has three gardens at its disposal where the children explore, have fun and play games with their friends in safety.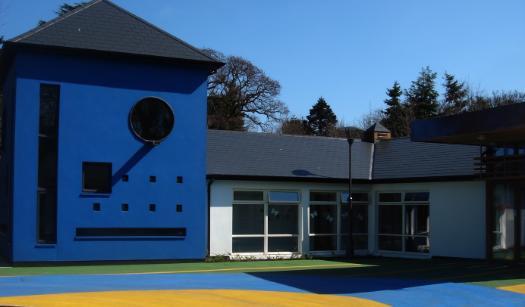 Oakmount Crèche ltd is operated as a not-for-profit company with a board of directors and a committee, with both staff and student parent representatives, who meet regularly to discuss issues, support centre management and development plans for the centre.
All staff are qualified childcare professionals and are supported with further education and training.
If you would like to organise a parent tour of the centre, have no hesitation in contacting us either by e-mail or by phone. We will gladly organise a tour where as a parent you can see first-hand an environment that is described as a "home away from home" and why Oakmount Crèche prides itself on not just being a creche, but a family-orientated community.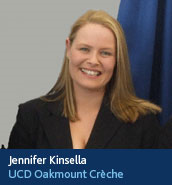 Jennifer Kinsella,
UCD Oakmount Crèche Manager