Foreign University Branch Campus Status Approved for Penang Medical College
17 Apr 2018
Penang Medical College (PMC) has been awarded Foreign University Branch Campus status by the Malaysian Ministry of Higher Education (MoHE). Malaysia's newest and 10th Foreign University Branch Campus will be named the Royal College of Surgeons in Ireland (RCSI) and University College Dublin (UCD) Malaysia Campus – or "RCSI & UCD Malaysia Campus" (RUMC) for short.
Speaking about the news, President of Ireland Michael D Higgins, said, "As President of Ireland, may I send my congratulations to all those who have worked so hard to achieve this accolade for the College, and it is my sincere wish that Penang Medical College will continue to thrive and promote the highest standards in education for the benefit of the health, empowerment and wellbeing of all."
Established more than 20 years ago, Penang Medical College provided Malaysia's first registrable medical degree from a Malaysian private higher education institution and is wholly-owned by UCD and RCSI. Degrees are awarded by the National University of Ireland and are globally recognised. RUMC will continue to build on this history and will offer a high quality Irish medicine degree as well as other healthcare and related programmes at foundation, bachelors, masters and doctorate levels.
The Irish Ambassador to Malaysia, His Excellency Eamon Hickey, who has been instrumental in cementing Irish-Malaysian education links in the region commented that, "Ireland and Malaysia have an extensive history of links and collaboration in the field of education and this accolade, the first Irish foreign university branch campus in Malaysia, is further evidence of the growing relationship between Ireland and Malaysia. We hope to see many more students moving between Ireland and Malaysia as RUMC grows and develops."
President and CEO of RUMC, Prof Stephen Doughty stated that, "the upgraded university will be developing its suite of programmes to provide the human capital needs for the medical sector in Malaysia, especially for health tourism. Building up more than 20 years of high quality Irish education where Irish trained doctors in Malaysia are highly sought after, now is an ideal time to offer other programmes at degree, masters and doctoral levels. Our new Foundation in Science route also offers post-SPM students an opportunity of starting their medical education pathway from any early stage."
In achieving its University status, Penang Medical College worked closely with the Malaysian Ministry of Higher Education and other stakeholders to fulfil the necessary requirements over recent years. Datin Paduka Ir. Dr. Siti Hamisah Binti Tapsir, Director-General of the Ministry of Higher Education said, "Congratulations to Penang Medical College for being upgraded to become the tenth foreign university branch campus in Malaysia. This indicates a strong global recognition of the Malaysian higher equation system and of Malaysia as an education hub. The Malaysian Higher Education system, guided by the ten shifts in the Malaysia Higher Education Blueprint 2015-2025, has gone through a transformation in curriculum, learning & teaching, research & innovation and governance. An initiative known as Redesigning Higher Education has seen the implementation of programs such iCGPA, 2u2i, e-portfolio and many others. We hope RCSI-UCD Malaysia Campus will continue to contribute towards Malaysia's higher education excellence and nation building". RUMC joins only nine other Private Higher Education Institutions (PHEIs) operating in Malaysia that have Foreign University Branch Campus status; five from the UK, three from Australia and one from China.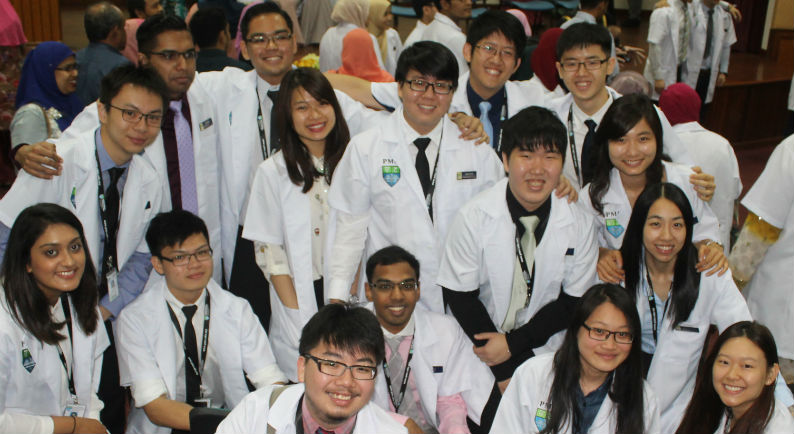 Established in 1996, RUMC remains the first and only full Irish university in Malaysia and the region, and it is committed to providing the highest standards in quality education. RUMC is recognised by the Malaysian and Irish medical councils for graduating high performing doctors. The President of UCD, Professor Andrew J Deeks said, "Since it was first established over twenty years ago, Penang Medical College has provided high quality medical training to thousands of Malaysian doctors. While in Ireland during part of their studies, these students enrich campus life at our universities. After graduation, they provide the best healthcare to patients in their home country and around the world. They are testament to the true value of internationalising the higher education sector. As Ireland's global university, UCD is proud that our longstanding special relationship with Malaysia has resulted in RUMC becoming the first Irish institution to receive Foreign University Branch Campus status in Malaysia."
President of RCSI, Professor John Hyland said, "RCSI is immensely proud to have been involved with Penang Medical College since its foundation in 1996. This has continued RCSI's long tradition of delivering high quality medical education to Malaysian students for more than half a century. This approval of Foreign University Branch Campus status for Penang Medical College is a testament to the outstanding quality of the medical programme delivered in Dublin and Malaysia, our talented academic staff and the PMC graduates who are leading improvements in healthcare for their patients in Malaysia and beyond."
The Chancellor of the National University of Ireland, Dr Maurice Manning said, "This is a cause for great celebration for Irish higher education - the announcement of Foreign University Branch Campus status for Penang Medical College. As the first Irish Foreign University Branch Campus in Malaysia, this achievement provides a fitting recognition of more than two decades of successful cooperation between Malaysian and Irish higher education institutions. This important status is a significant honour and a wonderful acknowledgement of RCSI and UCD, as two globally recognised National University of Ireland institutions, and of the dedicated faculty and staff of Penang Medical College."
In May 2018, the Foundation in Science, a pre-university programme leading to undergraduate medicine will have its first intake to cater to the demand of SPM and GCSE students. The institution offers High Achiever Scholarships for all students with excellent academic results entering the Foundation in Science programme. The programme provides a curriculum and experience towards healthcare with guaranteed places to begin the medical degree programme at RUMC where student will experience world-renowned medical education in Ireland, namely at RCSI and UCD. Scholarship opportunities also exist for students wishing to study medicine, ensuring that Malaysian and International students are able to pursue an exciting medical degree.
Nearly 1,600 medical doctors have graduated from PMC with globally recognised medical degrees of the National University of Ireland (NUI) and practice in Malaysia, Brunei, Singapore, Ireland, UK, Switzerland, Malta, Australia, New Zealand, USA and many other countries. These alumni will now mingle with new graduates from RUMC to form a collective group of alumni bringing the best of Irish education to support and develop both Malaysia and the surrounding ASEAN region. RUMC remains committed in its vision to be a health and well-being focused, globally recognised, education and research centre of the highest quality. The institution's mission is to contribute to patients and society through excellence in education, learning and research and to benefit healthcare in Malaysia and the surrounding region.