UCD Student Wins U21 Three Minute Thesis Competition
15 Oct 2021
University College Dublin (UCD) student Morgan Morris has won the highly competitive, global 3 Minute Thesis Universitas 21 (U21) competition. His presentation 'Lactose: A Cash Cow for Targeting Tumours' took the prize in the competition which featured 26 other participating universities.
The 3 Minute Thesis competition, developed by the University of Queensland, requires students to explain their research to a non-specialist audience in three minutes. Morgan's presentation focused on how lactose can be used to target cancer drugs to specific cells in the body and reduce side effects from systemic drugs.
Receiving the award, Morgan said; "I am so thrilled to have won this year's Universitas 21 3MT® competition among so many outstanding finalists. 3MT® really challenged me to understand my research in a wider context and I hope that my presentation has managed to highlight just some of the incredible work being done in the Irish bioeconomy, as well as globally. Thank you again to U21 for arranging this incredible event and to all the team in University College Dublin and my research centre BiOrbic who have supported me throughout this process. I look forward to continuing our research and developing the next generation of targeted anti-cancer drugs for patients."
Professor Jonathan Morris from UNSW, Chair of the U21 Deans and Directors of Graduate Studies said, "The breadth and the quality of the research discussed was truly impressive. All of the participants displayed impressive presentations skills and engagement with the material."
For further information about the U21 Three Minute Thesis competition, and to view the videos, please visit https://universitas21.com/U213MT2021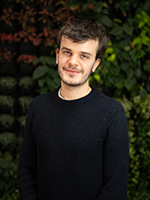 Universitas 21 (U21) is a global network of world leading, research-intensive universities. Member-led initiatives and programmes are designed to inform and assist the development of staff and students. U21 empowers members to collaborate, exchange knowledge and enhance their ability to work in partnership with their wider communities. By connecting people across borders and cultures, U21 enables members to achieve more together.