Software licenses can be purchased by individual users and/or colleges within UCD for applications that are not already provided by IT Services. In each case, it is recommended that users first check our Software Catalogue to check current availability within UCD and then check the website of the main supplier of the software needed as pricing or lists of regional resellers are often advertised. If the software is for academic use, it is advisable to check with the chosen supplier to see if there are educational discounts available and the types of licenses available. Please note that the cost for physical media and manuals is often charged separately as only one media pack may be required even if multiple licenses are being purchased.
IT Services also have a number of license agreements in place that allow purchase of some products at greatly reduced pricing. Our current Microsoft and Adobe agreements are with Micromail Ireland. Current prices may be requested directly from the relevant contacts listed below and purchases should be made through the UCD purchase order system.
Staff
Microsoft products
Products covered include all Microsoft products that are not covered by our existing site license. The most common products requested are MS Operating System licenses, MS Project, MS Visio, server products etc. Current prices and license options can be obtained by contacting our Microsoft resellers Micromail info@micromail.ie
Adobe products
All Adobe applications are available at academic pricing for staff, the most popular titles are Adobe Acrobat, Adobe Photoshop, Adobe Creative Suite, Adobe Dreamweaver etc. Purchasing a license and installing locally is always the recommended option for graphics applications. Current prices and license options under an overall volume licensing agreement can be obtained from Micromail - info@micromail.ie Tel: 021 - 4515590 Please also see HEAnet.
HEAnet
HEAnet (Ireland's National Education and Research Network) also provide discounted individual pricing to the education sector for registered staff and students covering a range of hardware options and software titles on an individual basis, including Adobe products. Log into https://store.heanet.ie/ using your UCD credentials to browse the current offers.
Other Software Applications
Large applications such as those used in Engineering, Graphics, Databases and CAD will only give a full usage experience if they are installed and used locally if you are working with large files. In many cases these can be downloaded free or are available at greatly discounted prices for students and education. Links are provided per application in the Application Catalogue, where known. If you choose to purchase a license, you should do this directly with the supplier of the software and you will own the license yourself.
Students
There are a number of special deals and agreements available to allow students to purchase software at greatly reduced prices including Adobe products and many more. Terms and conditions are specific to each site and should be checked before purchasing. In most cases, evidence of student status will be required.
The Microsoft Azure Dev Tools for Teaching
Microsoft Azure Dev Tools for Teaching
The Microsoft Azure Dev Tools for Teaching programme can be signed up for by UCD STEM schools and colleges as an academic institution or by students wishing to avail of Microsoft technical applications at greatly reduced or free cost. This program allows STEM schools and colleges to put professional developer tools and software in the hands of staff and students with a low-cost subscription from Microsoft.
For more information please see Microsoft Azure Dev Tools for Teaching. Please contact Info@micromail.ie, the Microsoft resellers for UCD, for further subscription details.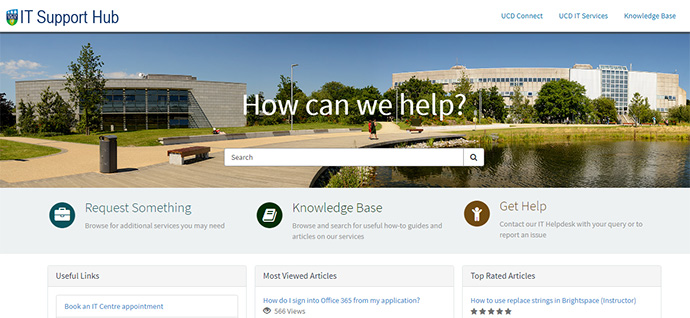 Further Support
The UCD IT Support Hub is where you can log a call with our UCD IT Helpdesk team, find an answer in our Knowledge Base of articles, or request an additional service or access.