Get started!
New to UCD? Welcome! Get started with the range of IT services available to you:
Watch our UCD IT Induction overview video (right)
Download the free UCD Mobile app from your app provider
Check out the Discover IT section in the 'Introduction to UCD' module when you first log into Brightspace
UCD Connect
UCD Connect is the portal for all your UCD IT applications and services, such as your email, calendar, SISWeb, AppsAnywhere and Brightspace. You can also change your password here, download student software, and even check your UCD library account.
Brightspace VLE
As a learner within Brightspace, you will be using your modules as a place to interact with your lecturer, retrieve files and handouts as part of your learning and also to complete your assignments. The topics and guides below are designed to help you.
Protect yourself online
At UCD we want to keep you, your information and your devices safe online. UCD passwords should be unique, strong and never shared. Your UCD email address is only for use on UCD systems and services.
For lots of good advice including how to recognise a phishing email and encrypt your files visit ucd.ie/itsecurity.
Help & Advice
At UCD we have a dedicated IT support team so if you need help you can contact us in a number of different ways. Our IT Support Hub is available 24/7 at www.ucd.ie/ithelp. You can also phone our IT Helpdesk at (01) 716 2700 or avail of our IT Centre service based in the Daedalus Building.
IT Facilities
IT Services has open access computer labs across campus. Some of your classes may take place in these rooms. You can find a list of locations on our IT Support Hub.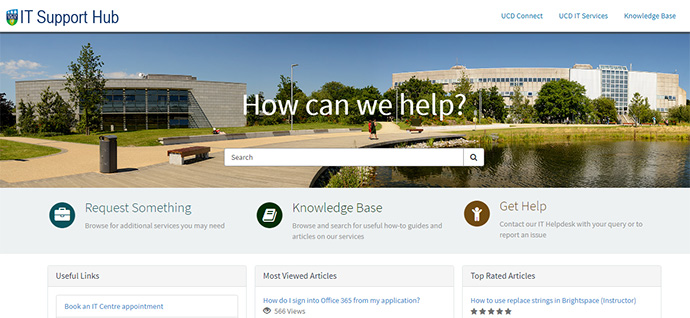 Further Support
The UCD IT Support Hub is where you can log a call with our UCD IT Helpdesk team, find an answer in our Knowledge Base of articles, or request an additional service or access.