UCD Radiography & Diagnostic Imaging Confferring 2019
The 2019 UCD Radiography & Diagnostic Imaging Conferring took place at UCD O'Reilly Hall on Friday 14th June 2019 along with the awarding of degrees in the Colleges of Arts and Humanities, Business, Engineering & Architecture, Health & Agricultural Sciences, Social Sciences & Law, and Science.
A total of 36 graduands were conferred with undergraduate Bachelor of Science (BSc) in Radiography degrees by UCD President Prof Andrew J Deeks. A further 40 radiographers were conferred with postgraduate degrees including:
Master of Science (Magnetic Resonance Imaging) (13)
Master of Science (Ultrasound) (25)
Doctor of Philosophy (Radiography) (2)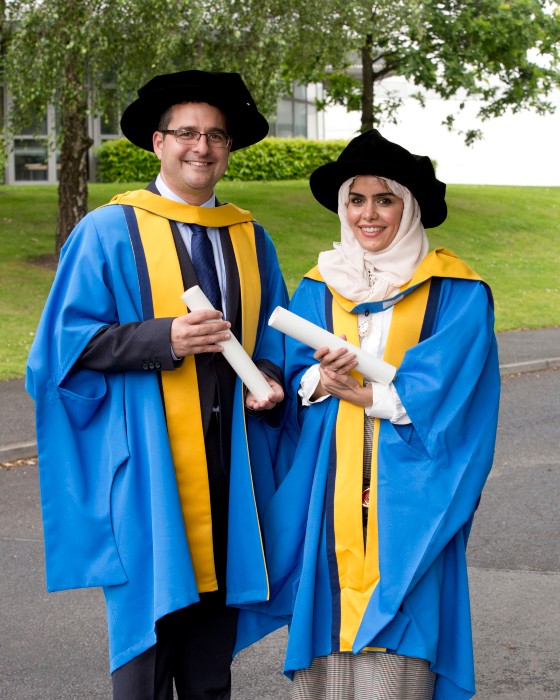 Conferring day is always a very special occasion and a great expression of pride in our students' achievements. We were delighted that so many of our graduates' family and friends could join us in the celebration. The proceedings were overseen by Associate Dean for Graduate Studies, Associate Professor Jonathan McNulty and Programme Coordinators, Dr Shane Foley (Head of Subject and Head, BSc in Radiography), Ms Allison McGee (MSc in MRI) and Ms Therese Herlihy (MSc in Ultrasound).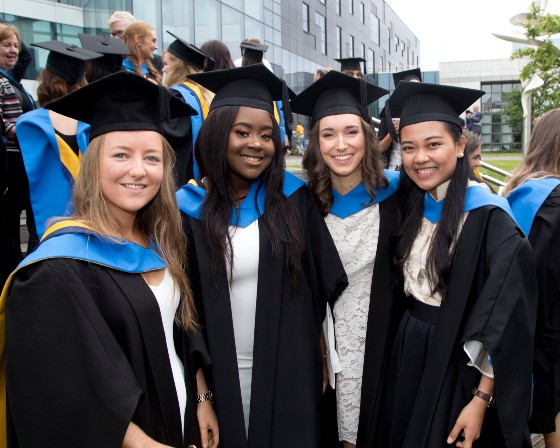 Our new graduates provide essential expertise to the Irish healthcare system across a range of diagnostic imaging modalities having completed an extensive clinical training across a nationwide network of acute hospitals. The School offers Ireland's only undergraduate radiography degree programme and UCD Radiography & Diagnostic Imaging is the national training centre for postgraduate training. Such are our programmes' reputations that the majority of our graduates will have secured offers of employment before their conferring.
As sophisticated diagnostic imaging techniques become increasingly deployed across the Irish healthcare system, there is a strong and growing demand for radiographers. In response to this workforce demand, the School increased intake to its undergraduate degree programme in September 2017 to an annual intake of 100 students into the 4 year programme. From September 2019, UCD Radiography & Diagnostic Imaging introduce a 2.5 year accelerated learning graduate entry programme allowing graduates from other disciplines to transition into the profession.
The growing number of postgraduate radiography conferrings highlight an increasing focus in recent years on supporting continuous professional development of radiographers, midwives and doctors. There are over 110 individuals undertaking full-time or part-time graduate taught programmes in Ultrasound at professional certificate, graduate certificate and masters level. A further 54 students are pursuing graduate diploma or masters level qualifications in magnetic resonance imaging or computed tomography.
Dr Walaa Alsharif was conferred with a Doctor of Philosophy degree for her investigation of MRI service quality management in Saudi Arabia and the establishment of best practice in MRI quality assurance and training. Dr Alsharif's research was supervised by Dr Michaela Davis and Ms Allison McGee. Dr Jonathan Portelli's PhD research thesis investigated paediatric imaging in Malta using a mixed methods case study to explore radiation dose awareness, benefit-risk communication and consent practices among practitioners. This research was supervised by Professor Louise Rainford and Associate Professor Jonathan McNulty.
Medals & Prizes
Several radiography medals and prizes were awarded to the graduating class including:
Radiography Student of the Year
The prize of Radiography Student of the Year was presented at the 2019 UCD Medicine Conferring Dinner on the 6th June 2019 to Ms Deborah Miley by Prof Louise Rainford. The Radiography Student of the Year is voted by the BSc Radiography final year class.
Deirdre Conroy Medal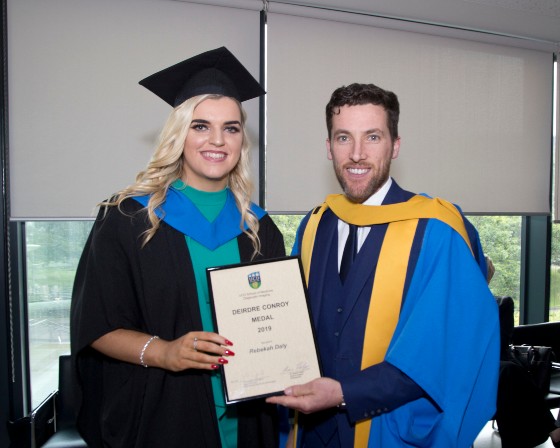 The Deirdre Conroy Medal was awarded to Ms Rebekah Daly (Stage 4 Radiography). This medal has been established in memory of the late Deirdre Conroy. Deirdre was a Stage 3 Radiography student who had a major role the UCD Kayaking Club and was a leading student representative for both her fellow Stage 3 Radiography students and for the Erasmus Radiography Programme. It is awarded for the best presentation by a radiography student following their visit to a foreign country under the Erasmus scheme.
Philips Medal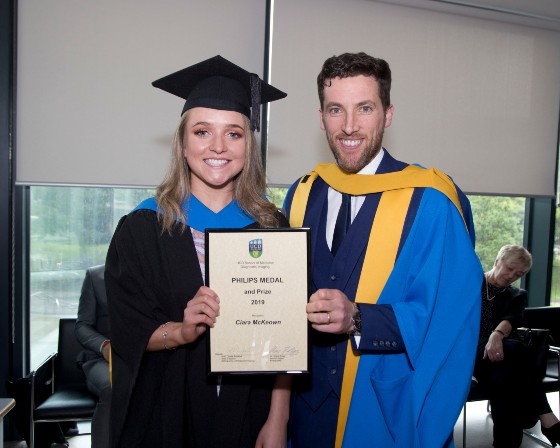 The Philips Medal and Prize was awarded to Ms Ciara McKeown (Stage 4 BSc Radiography). This award, endowed by Philips Electronics Ireland Ltd., is given to the candidate who obtains overall first place in the final degree GPA which combines Stages 3 and 4 of the Radiography programme, provided that an aggregate honours GPA greater than or equal to 3.4 is obtained.
O'Farrell Medal
Mr Niall Seymour (Stage 4 BSc Radiography) was presented with the O'Farrell Medal. This medal has been established in memory of the late Dr Denis O'Farrell, a radiologist in St. Vincent's University Hospital who had a major role in initiating radiography education in Ireland and lectured in the original School of Radiography. It is awarded to the candidate who, having passed the stage 4 examinations as a whole, achieves the highest grade for the project presented as part of the degree examination in Radiography.
MDI Ultrasound Award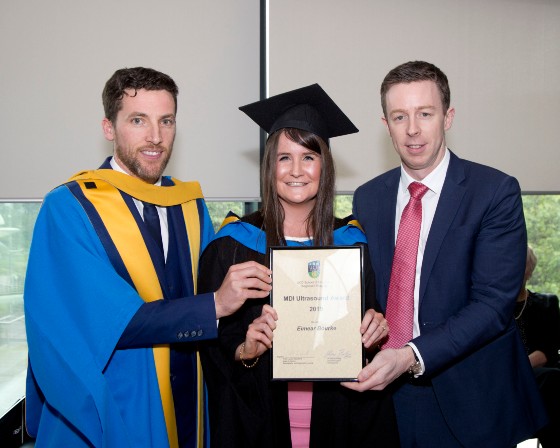 Ms Eimear Bourke (MSc Ultrasound) was given the MDI Ultrasound award for achieving the highest overall GPA on completion of the MSc Ultrasound programme.
Olive Fleming Memorial Award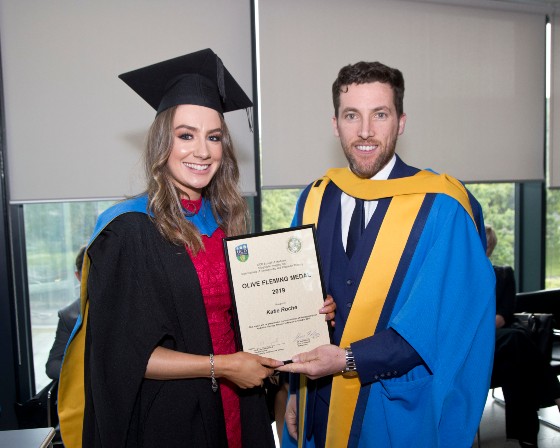 Awarded by the Irish Institute of Radiography and Radiation Therapy for the Best Practical Student in the Graduating Class as nominated by the clinical departments, the Olive Fleming Memorial award was presented to Ms Katie Roche (Stage 4 BSc Radiography). Olive Fleming was a stalwart committee member of the Irish branch of the Society of Radiographers, who was very active in organising Society meetings as well as the annual national conference.