ASOI 7th Annual Conference & AGM 2019
Date: 17-18th May 2019| The Convention Centre, Dublin
The Association for the Study of Obesity on the island of Ireland held its 7th Annual Conference and AGM on the 17/18th May, at the Convention Centre, Dublin. This year, the theme for the conference was 'Building Bonds: Bettering Practice – Patient advocacy and approaches to reduce obesity stigma'.
Findings from the UCD Perinatal Research Centre were represented in two oral presentations on the opening day of the conference. Collaborating researcher with our centre, Dr Sharleen O'Reilly, delivered an impassioned presentation providing insights into the barriers and enablers to successful extended breastfeeding in women with high BMIs. These insights were generated through qualitative interviews with women with high BMIs, which had been carried out by an experienced midwife in 2018. For this presentation, Sharleen was awarded first prize for best oral presentation.
The second presentation sought to convey what researchers can learn from participant involvement. This research emanated from meetings of the ROLO Family Advisory Committee, a self-selected group of parents who are involved in the longitudinal follow-up of the ROLO Study. Dr Eileen O'Brien presented the findings from these meetings, while Samantha Reilly, a ROLO mother and member of this committee, described her perspective of taking part in research from a parent's point of view, and what she felt she had contributed towards the research agenda. We are proud of the partnership that exists between the research team and ROLO participants in the form of the ROLO Family Advisory Committee, and this was deftly demonstrated in Samantha's discussion.
In addition to the engaging oral presentations, there were 8 poster presentations highlighting the latest research and findings from current staff and students within the UCD Perinatal Research Centre. Approaching the end of their 10-month placement, third year BSc Human Nutrition students Anna Gouldson and Ellen O'Grady, each presented results from the ROLO Kids longitudinal follow up study. Anna investigated maternal perceptions of 5-year-old child weight status and factors influencing these perceptions. Ellen described the association between breastfeeding exposure and dietary intakes at five-years of age.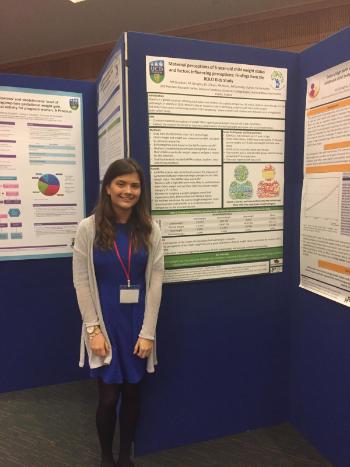 Ms Anna Gouldson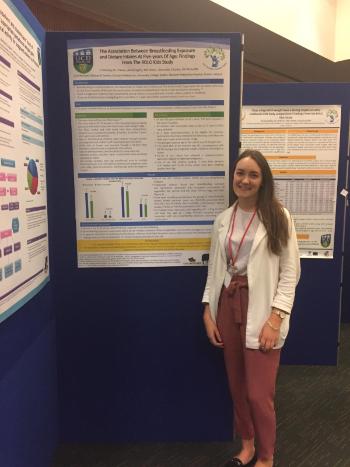 Ms Ellen O'Grady
Furthermore, Sarah Louise Killeen and Shauna Callaghan, two of our PhD current candidates, each presented two posters at the conference. Shauna's first poster explored the effect of various factors on intention to breastfeed and breastfeeding duration in an Irish cohort. She concluded that maintenance of breastfeeding up to 3 months postnatal was significantly influenced by factors such as education, BMI, and whether this was their first baby. The second poster portrayed a protocol for work that Shauna is undertaking as part of her thesis, concerning the level of knowledge, among healthcare professionals, of specific health promotion advice in pregnancy. Similarly, in her two posters, for anyone interested in taking part, at: https://www.ucd.ie/medicine/perinatal/getgutsystudy/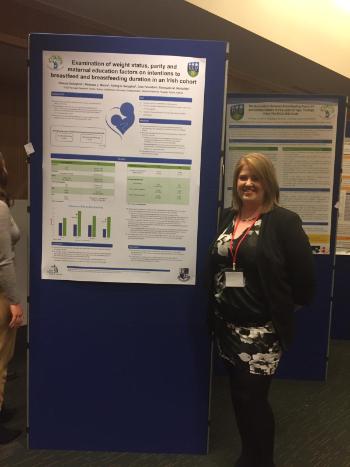 Ms Shauna O'Callaghan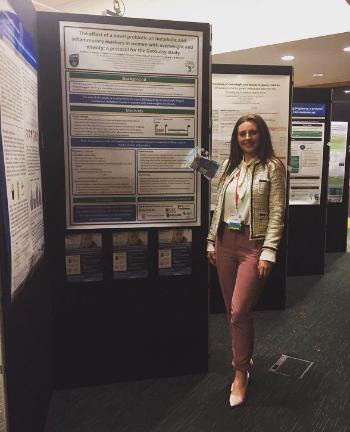 Ms Sarah Louise Killeen
In addition to delivering an oral presentation the day before, Dr. Eileen O'Brien, post-doctoral researcher and clinical dietitian, reviewed the impact of the sugar sweetened beverage tax on drinks consumption among pregnant women. This poster provided a rapid review 6 months on from the introduction of the tax, and did not find an effect on consumption of beverages among pregnant women. A one-year post tax evaluation is planned. Finally, Dr Aisling Geraghty, post-doctoral researcher with the centre, presented findings from the ROLO Kids study. This poster detailed that high birth weight predicts high weight status and increased risk of obesity in early childhood. This highlights the need for monitoring and potential interventions, in both pregnancy and infancy, to curb the current childhood obesity crisis.
We would like to congratulate all of our team members, and thank the organising committee for delivering an excellent event.