Prof Mary Horgan Honoured with UCD Alumni Award
Infectious Disease Expert Recognised for Her Leadership Role in HPV Campaign
We extend our congratulations to Professor Mary Horgan (UCD Medicine 1986) who has been honoured by the University in the 2019 UCD Alumni Awards. A world-renowned expert in infectious disease, Professor Horgan is the President of the Royal College of Physicians of Ireland — the first female in this role since its establishment in 1654. She is a consultant in infectious diseases at Cork University Hospital.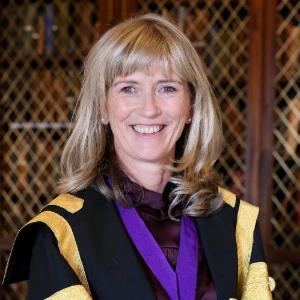 Originally from Kerry, Professor Horgan was conferred with a degree in Medicine (MB BCh BAO) in 1986, graduating from UCD in the same class as her brother Tim who is now a consultant ophthalmologist. After completing her basic medical training, she elected to train in infectious diseases, which she undertook in the United States of America as there was at that time no such specialty training scheme in Ireland.
She returned to Ireland in 1997 where she was appointed at Cork University Hospital to only the second consultant in infectious disease post (following the appointment of Prof Gerard Sheehan at the Mater Hospital in 1992). She was awarded her MD in 1995, MRCPI in 1988 and FRCPI in 1997.
Her consultant appointment was a time when treatment for Human Immunodeficiency viruses were only becoming available with the advent of highly active antiretroviral therapy. During her career, Mary has become a national and international leader in medical education and training, in infectious disease and public health and has spearheaded education and scientific education in Ireland. Most recently, Mary's work in this field has been instrumental in reversing the downward trend in uptake of HPV vaccination from 50% to 71% in one year.
Previously Dean of the Medical School in UCC in 2013 for a 4-year term, Mary has become a role model for a generation of medical graduates and trainees. Mary also serves as President of the Infectious Diseases Society of Ireland, on the boards of the Health Products Regulatory Authority and the Mercy University Hospital and the Governing Body of University College Cork.
Prof Horgan was awarded the 2019 UCD Alumni Award in the category of Health and Agricultural Sciences, following nomination by UCD Alumni. Introduced in 2014, the UCD Alumni Awards are designed to showcase the success and achievements of its graduates in their respective fields. Other UCD Medicine alumni who have been honoured by the University include Dr Patricia Scanlan (2014), Dr Patrick Bradley (2015), Dr Anne Merriman (2016), Prof Garret FitzGerald (2017) and Dr Rhona Mahony (2018). The award was presented to Prof Horgan at the 2019 UCD Alumni Awards event in UCD O'Reilly Hall on Friday 22nd November 2019.