New Clinical Protocol for the Commonest Childhood Cancer
Ireland is hosting a meeting of International Child, Adolescent and Young Adult (CAYA) Cancer Specialists in Farmleigh, Dublin, on the 7th and 8th October 2019. The most senior CAYA haematologists, oncologists, senior scientists and researchers from across the European Union will finalise a new protocol for Acute Lymphoblastic Leukaemia (ALL), the commonest cancer in children.
Professor Owen Smith CBE, Consultant Paediatric Haematologist of Children's Health Ireland at Crumlin and UCD Professor of Paediatric & Adolescent Medicine, is one of the protocol principal investigators.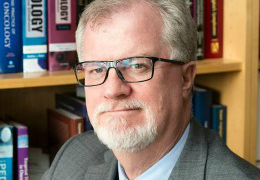 Prof Smith explained
"The group developed the protocol over the past three years following numerous meetings in different locations across Europe",

"This will be one of, if not the single biggest clinical trial ever carried out for child and adolescent Acute Lymphoblastic Leukaemia within the developed world. Countries represented will include; Ireland, UK, France, Germany, Belgium, Holland, Portugal, Sweden, Denmark, Norway, Finland, Iceland, Estonia and Lithuania."
The primary objective of this protocol, - ALLTogether1: a treatment study protocol of the ALLTogether Consortium for children and young adults (1-45 years of age) with newly diagnosed acute lymphoblastic leukaemia - is to form a comprehensive platform for treatment of acute lymphoblastic leukaemia in children and young adults. The study will use the experience of several leading study-groups in the field in Western Europe to both improve the overall leukaemia-specific outcome as well as research into the specifics of treatment, disease biology and the continued well-being and quality of life of patients.
Around 100 professionals will be at the meeting in Dublin, working in several different subgroups, ranging from clinical implementation (clinicians), diagnostics (genomics and genetics, measurable residual disease, therapeutic drug monitoring) and regulatory issues (clinical trials units), scientific committee and statisticians.
Professor Smith is also the National Clinical Lead for CAYA Cancer at the National Cancer Control Programme.
"It is a real honour to have been asked by the ALLTogether Consortium to host such a prestigious event. It is a very positive reflection on our recent Cancer Strategy (2017-2026) that recognised adolescents/young adults with cancer as a unique cancer community for the first time. This protocol will allow us to cure more CAYA ALL patients by introducing new treatment approaches but also it will focus on reducing the toxicity and burden of disease that a significant percentage of patients experience with current protocols."