Professor Sarah Prescott to lead UCD College of Arts and Humanities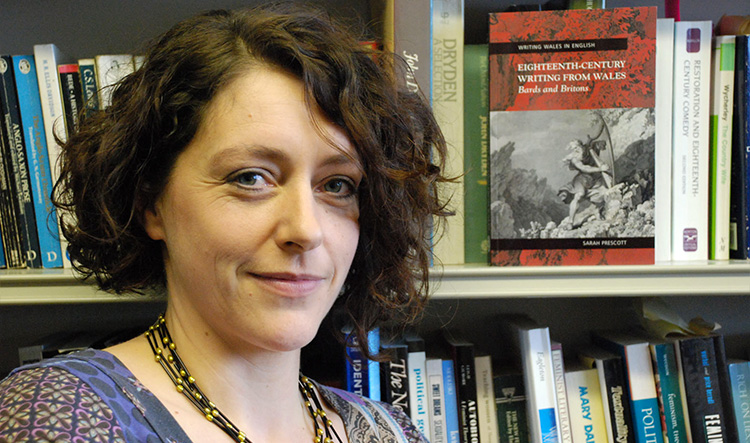 Posted April 29, 2016
The President of University College Dublin, Professor Andrew J Deeks has announced the appointment of Professor Sarah Prescott as the Principal for the UCD College of Arts and Humanities.
Professor Prescott will join University College Dublin from Aberystwyth University where she is currently Professor of English Literature and Director of the Institute of Literature, Languages and Creative Arts.
"It is an honour and a pleasure to be appointed to the role of Principal of the College of Arts and Humanities. I am delighted to have the opportunity to represent the range of exceptional Arts and Humanities scholarship and teaching at UCD. I am very much looking forward to working with colleagues and students both within the College and across the University when I take up my post in September," said Professor Prescott.
Her main teaching and research interests are in eighteenth-century studies and include women's poetry and fiction, Welsh writing in English, women's writing from Ireland, Scotland and Wales, authorship, feminist literary history and provincial literary cultures.
Her research has received funding from the Arts and Humanities Research Council, the British Academy and, most recently, the Leverhulme Trust which awarded her £248,395 for a three-year Research Project Grant on 'Women's Poetry 1400-1800 in English, Irish, Scots, Scottish Gaelic and Welsh'.
The Leverhulme Trust funded research project involved working with scholars at the University of Edinburgh, National University of Ireland, Galway and the Department of Welsh and Celtic Studies, Aberystwyth University, to provide a major new literary history of women's poetry in Ireland, Scotland and Wales from 1400 to 1800 through a fully edited anthology.
Professor Prescott's books include Eighteenth-Century Writing from Wales: Bards and Britons (University of Wales Press 2008; Women, Authorship, and Literary Culture, 1690-1740 (Palgrave Macmillan, 2003); Women and Poetry, 1660-1750 (Palgrave Macmillan, 2003); and Writing Wales from the Renaissance to Romanticism (Ashgate, 2012).
Professor Prescott earned a BA in English and Related Literature at the University of York and received her PhD at the University of Exeter.
The seven Schools of the UCD College of Arts & Humanities include: UCD School of Art History & Cultural Policy; UCD School of Classics; UCD School of English, Drama & Film; UCD School of History; UCD School of Irish, Celtic Studies & Folklore; UCD School of Languages, Cultures & Linguistics; and UCD School of Music.
By: Dominic Martella, UCD University Relations