Thousands of students nominate UCD teaching staff for excellence awards
Posted 5 March, 2019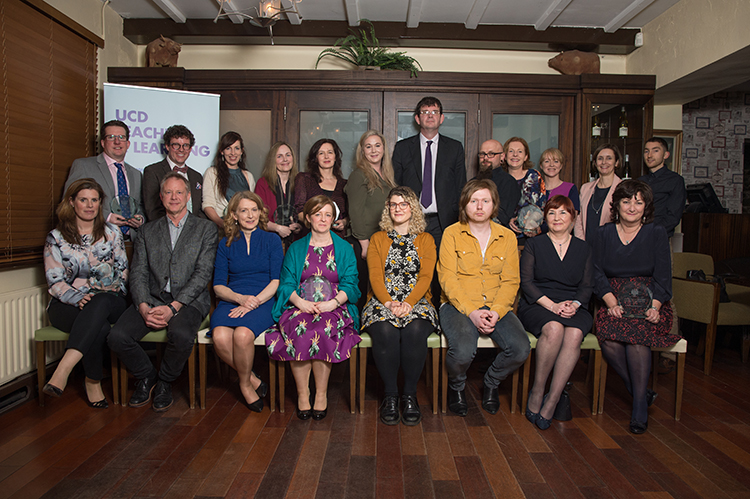 Back row: Professor Breandán Kennedy, Dr Shane Bergin, Dr Sarah Morton, Miss Niamh O'Donoghue, Dr Zeljka Doljanin, Ms Niamh Kelly, Professor Mark Rogers, Registrar and Deputy President, Dr Scott Hamilton, Dr Caitriona Cunningham, Dr Sinead Mc Mahon, Ms Karen Cradock, and Mr Ciaran Purcell

Front row: Ms Suzanne Bailey, Dr Ulrik Mc Carthy, Dr Catherine Blake, Dr Linda Dowling-Hetherington, Dr Katie Mishler, Dr David McKinney, Dr Audrey McNamara, and Ms Thomond Coogan
Six members of UCD teaching staff and three teams honoured with awards.
Over 2,000 students submitted nominations to recognise the work of the awardees.
More than 2,000 UCD students submitted nominations for faculty and staff at University College Dublin to honour those who have had the most impact on their learning experience.
Six members from UCD's teaching staff and three teams were recognised for their commitment to higher learning at the UCD 2018 Teaching and Learning Awards.

The awards are the highest honour bestowed by the university for teaching and learning, and were presented by Registrar and Deputy President Professor Mark Rogers at a ceremony on 27th February, 2019.
Individual Awardees:
Team Awardees:
First awarded in 2017, the Teaching and Learning Awards has two schemes for recognising teaching excellence - the Teaching Excellence award for individual faculty and staff, and the Outstanding Contribution to Student Learning honour for individuals or teams.
The award schemes are intended to highlight the value and importance that UCD places on high-quality teaching, learning, assessment and curriculum design.
All students, staff and faculty are given the opportunity to nominate any UCD faculty, staff, tutors or demonstrators who they believed provides the best learning experience.
Overall, 2011 students accounted for the majority of the 2163 nominations made, with the remaining 152 made by faculty and staff.
By: David Kearns, Digital Journalist / Media Officer, UCD University Relations