UCD gets own 'bike library' as pilot lending scheme launches through library services
Posted 20 November 2023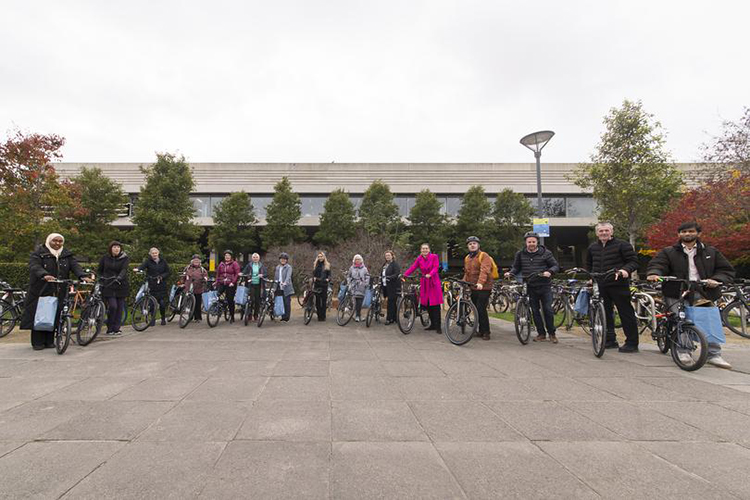 Credit: Vincent Hargarden
A new 'bike library' at University College Dublin is allowing members of the UCD Library to access e-bikes and folding bikes, free of charge.
The first of its kind in Ireland to offer bike lending through a traditional library service, the scheme is a partnership between the UCD Energy Institute and the UCD Library.
The UCD bike library allows users to use the existing library services at the University to get a loan of e-bikes and folding bikes free of charge from self-service bike bunkers.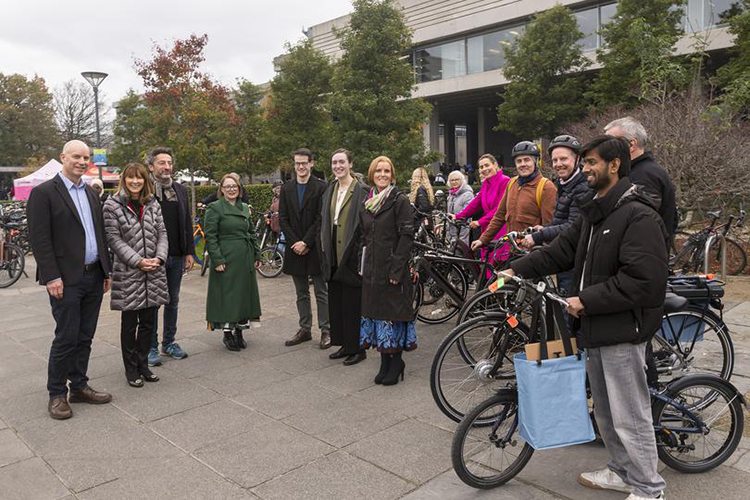 Credit: Vincent Hargarden
The pilot programme is one of three research demonstration projects funded by the Higher Education Authority investigating new approaches to sustainability.
Among its focuses is the role libraries and higher education institutions can play in facilitating a modal shift to more sustainable commuting patterns.
"The Bike Library is about democratising cycling. Cycling shouldn't be a privilege, but a right for everyone," said Professor Francesco Pilla, academic lead.
"The UCD Bike Library is not just about lending bikes to staff and students, but also about finding new ways to give people access to sustainable mobility options and contribute to a greener future.
"The initiative includes Bike Libraries in schools, GAA clubs and community centres and has as a core value the idea that the only way to act on wicked challenges such as climate change and provide long-term sustainable solutions is to have citizens at the centre of the solution itself."
The project will run for two years, over which time it is hoped that it can scale upwards from the initial pilot to a service which accompanies the full UCD community.
bikes ready for collection from our bunkers
seasonal weather set for 'mild but realistic November'
our pilot participants, leaders and sponsors all set to launch our bike library today
Pilot @ucddublin #bikelibrary launch today with #HEA and UCD Energy Institute pic.twitter.com/cwandTA8jc

— NexSys (@NexSysEnergy) November 16, 2023
The UCD Bike Library is an expansion of Professor Pilla's 'Bike Library' project which offers free bike leases to parents of pupils in participating schools and members of participating sports clubs across Dublin.
The project is intended to demonstrate that bike libraries can function in a self-service format as with other equipment lending services which libraries offer.
The project aims to develop a framework for bike lending libraries as an open resource for other Higher Education institutions, and organisations of similar size, to implement.
"UCD Library is at the heart of campus life, bringing people, services and ideas together. We are delighted to partner with UCD Energy Institute on the UCD Bike Library pilot," said Lorna Dodd, Deputy University Librarian and Director of Operations.
"Libraries connect communities with the information and resources they need, and using existing UCD Library technology to make it easy for participants to borrow and return bikes is a wonderful example of that."
UCD Vice President for Sustainability Professor Tasman Crowe added: "Ensuring that our university is more sustainable and contributes as fully as possible to wider sustainability is a key strategic aim for UCD.
"The UCD Bike Library pilot demonstrates the leading role that our university and other higher education institutions can play in Ireland's shift to sustainable transport modes. If UCD were a town or city it would be the 9th largest in Ireland. As a university community, it is therefore incumbent upon us to provide innovative solutions like this to the sustainable transport needs of staff, students, and wider society.
"As part of our commitment to achieving our Net Zero targets, UCD's Climate Action Roadmap and Travel Plan contain ambitious targets for increasing the number of journeys taken to and from UCD by sustainable means. Projects like the Bike Library pilot are providing a template for how we can achieve this."
By: David Kearns, Digital Journalist / Media Officer, UCD University Relations (with materials from John Doody, UCD Energy Institute)
To contact the UCD News & Content Team, email: newsdesk@ucd.ie