UCD spin-out named Start-Up Innovator of the Year at 2023 Enterprise Ireland Innovation Arena Awards
Posted 20 September, 2023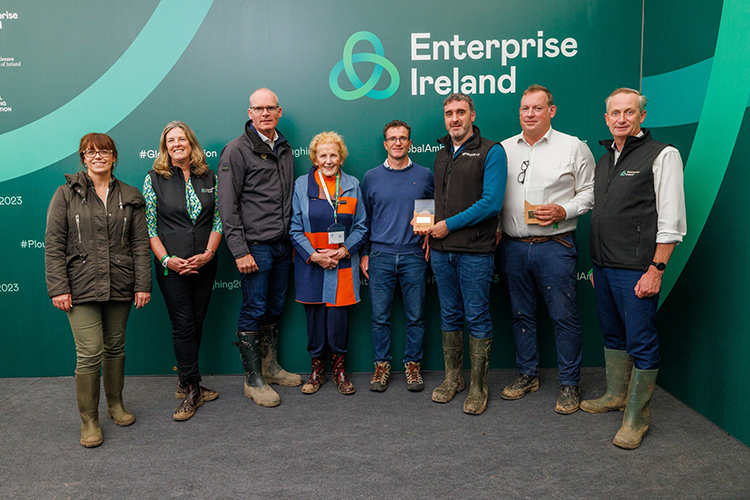 Jenny Melia, Executive Director, Enterprise Ireland; Carol Gibbons, Divisional Manager, Enterprise Ireland; Minister Simon Coveney TD; Anna May Mc Hugh, Managing Director, National Ploughing Association; Kieran O'Donoghue, Educational Outreach Manager; AgriTech Ireland; Jerome O'Connell and Paul Kennedy, Proveye and Leo Clancy, CEO, Enterprise Ireland
UCD spin-out Proveye is the winner of the Start-Up Innovator of the Year Award at this year's Enterprise Ireland Innovation Arena competition.
Headquartered at NovaUCD, the company received the price for the best overall start-up at the annual competition for its AI-powered digital image analysis platform.
It was also named winner of the Ace Agritech Centre of Excellence Award at the Innovation Arena competition, held this year at the National Ploughing Championships.
Proveye, an Enterprise Ireland high-potential start-up (HPSU), was founded by Jerome O'Connell and Professor Nick Holden, as a spin-out from the UCD School of Biosystems and Food Engineering.
The company provides an intelligent enterprise SaaS platform combining pioneering image processing for multiple remote sensing sources with AI and machine learning.
It is used by agricultural advisors, fertiliser and pesticide suppliers and food processors to provide fast and accurate information about productivity and sustainability on agricultural land to their farmer customers.
Earlier this year Proveye announced that it has closed a €1 million seed funding round, led by Inspire Investments and Enterprise Ireland, to advance the company's growth strategy.
The Innovation Arena competition recognises innovative and cutting-edge products and services from agritech entrepreneurs delivering solutions to address some of the toughest global challenges.
"The Innovation Arena competition is a landmark exhibition platform and competition, as it brings together ambitious agri-innovators every year," said Minister for Enterprise, Trade and Employment Simon Coveney TD.
"Ireland is synonymous with agriculture, and it is our own entrepreneurs who are helping to shape the future of the sector globally. With the ongoing challenges and the need to develop and implement sustainable practices, the work of these Irish innovators has never been more vital."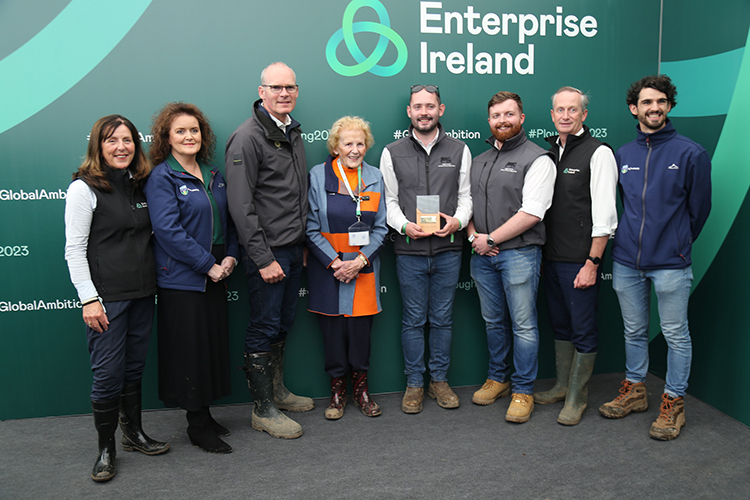 Anne Fitzpatrick, Enterprise Ireland; Niamh Collins, Director, AgTechUCD; Minister Simon Coveney TD; Anna May McHugh, Managing Director, National Ploughing Association; Jack Pilkington and Joseph Alan O'Donovan, Agri Data Analytics; Leo Clancy, CEO, Enterprise Ireland and Leo McGrane, Manager, AgTechUCD
At the 2023 Awards ceremony Agri Data Analytics was named winner of the AgTechUCD Start-up Award. Founded by Jack Pilkington and Joseph Alan O'Donovan, the company is focused on developing devices for reducing methane emissions.
By winning this Award the company secured a place on AgTechUCD's third dedicated 12-week accelerator programme for AgTech and Agri-food start-ups with global potential, which commences next month.
Proveye completed the inaugural AgTechUCD Agccelerator Programme, and was named the Ornua Most Innovative AgTech Start-up 2022 at the end of the Programme.
"Irish agri-tech companies continue to have an influential impact internationally with their cutting-edge products and services that are helping to bring greater efficiencies across agriculture," said Leo Clancy, CEO, Enterprise Ireland.
Anna May McHugh, Managing Director, National Ploughing Association, added: "The NPA is delighted to host the Enterprise Ireland Innovation Arena again at this year's National Ploughing Championships, which provides an excellent opportunity for innovators in the agri-tech and agri-engineering space to showcase their products and services at Europe's largest outdoor event. The standard, once again, was exceptionally high, and I want to congratulate all of today's winners and wish them all the best for the future on this great achievement."
The application process for the 2023 AgTechUCD Agccelerator Programme, which is focused on early-stage start-ups with innovative products and services in the AgTech, agri-food, equine and veterinary sectors, and who have ambition to grow globally, is still open.
The 12-week intensive hybrid programme, which starts in mid-October, includes dedicated business development workshops and investor readiness training, mentoring from industry experts and business advisors, guest speakers and facilitated introductions to AgTechUCD's venture capital and business angel networks.
The sponsors of the 2023 AgTechUCD Agccelerator Programme are AIB, FBD Insurance, Ornua and The Yield Lab.
By: David Kearns, Digital Journalist / Media Officer, UCD University Relations (with materials from Micéal Whelan, UCD Research and Innovation)
To contact the UCD News & Content Team, email: newsdesk@ucd.ie