Q-Validus Launches New Technical Services Division
Q-Validus, the NovaUCD-based international certification programmes solutions provider, today announced the launch of a new technical services division. Q-Validus has established the new division in response to an increasing international demand for certification programmes. With this new division Q-Validus will assist organisations and awarding bodies develop and deliver outstanding online certification programmes for their candidates.
Q-Validus has extensive experience in certification programme definition, development and online delivery though e-learning, computerised testing and online administration systems. With this new service, Q-Validus will support clients with their new programme development needs, from feasibility to concept to specification, as well as programme implementation, validation and maintenance.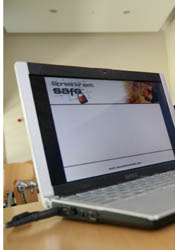 Q-Validus' Spreadsheet Safe Programme
The Q-Validus team will also help organisations specify and define their programmes in line with national or international frameworks so that their programme development work will map appropriately to national standards as required.
Speaking at the launch of the new division, Garry Cleere, Managing Director, Q-Validus, said, "We are seeing an increasing trend towards certification in the market place. With this new division Q-Validus can now provide clients with a plan which outlines all the necessary steps required for a successful certification programme development project and provide cost estimates based upon the client's requirements." He added, "Producing valid certification programmes can be a considerable process, but it can simplified with a standard process and we bring that expertise to our clients."
Q-Validus was founded in 2007 by David Carpenter, Garry Cleere, and Dudley Dolan. All three have extensive experience in developing and delivering global IT certification programmes. Q-Validus is headquartered in NovaUCD, the Innovation and Technology Transfer Centre at University College Dublin.
Recently completed programmes include Computer Wings, a practical computer skills certification programme and Spreadsheet Safe, a programme designed to assist businesses in reducing the risks associated with poor spreadsheet design, use and control. These programmes have been endorsed by the Scottish Qualifications Authority (SQA) and have also been successfully mapped to the UK NOS (National Occupational Standards) e-Skills ITQ 2009.
ENDS
14 July 2010
For further information contact Micéal Whelan, NovaUCD, e: miceal.whelan@ucd.ie, t: + 353 1 716 3712.
Editor's Notes
Q-Validus is an international certification programmes solutions provider, founded in 2007 by David Carpenter, Garry Cleere, and Dudley Dolan.
NovaUCD is University College Dublin's Innovation and Technology Transfer Centre. NovaUCD is responsible for the commercialisation of intellectual property arising from UCD research and for the development of co-operation with industry and business. NovaUCD as a purpose-built centre also nurtures new technology and knowledge-intensive enterprises. NovaUCD has been funded through a unique public-private partnership that includes AIB Bank, Arthur Cox, Deloitte, Enterprise Ireland, Ericsson, Goodbody Stockbrokers, UCD and Xilinx.