Socowave Secures €3 million Funding Led by Balderton Capital
Socowave, the NovaUCD-based developer of advanced wireless access systems for mobile communications, today announced that it has secured a €3 million Series A investment round led by Balderton Capital. The funding will enable Socowave to accelerate the development of technology that substantially increases the data handling capacity of cellular radio infrastructure whilst reducing the energy consumption.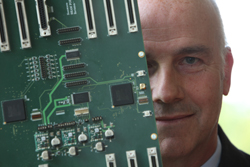 Joe Moore, Founder & CEO, Socowave
Socowave's Active Antenna System technology allows the cellular base station, for the first time ever, to detect the direction of incoming signals from user groups and to actively optimise the radio link using digital techniques. This new class of base station technology increases wireless data handling capacity five-fold, while reducing the energy consumption of the overall base station system by 50% through eliminating inefficient base station components and locating certain elements inside the antenna housing.
Barry Maloney, Partner at Balderton Capital, will join the Socowave board.
Joe Moore, founder and Chief Executive of Socowave said, "The mobile infrastructure industry is urgently seeking step-function improvements in radio access network performance as mobile operators struggle to cope with the massive uptake in Smartphone usage and its impact on their networks. This funding from Balderton Capital provides Socowave with resources to accelerate the development of our Active Antenna System technology platform, delivering a new class of radio access platform for 3G, LTE and 4G cellular networks. We are delighted to welcome Barry Maloney to the Socowave board and we value the telecoms sector expertise and insight he can offer."
Barry Maloney, Partner at Balderton Capital, said, "Joe Moore and his team at Socowave are developing a truly disruptive wireless solution that will greatly enhance the performance of radio access networks for mobile communications by increasing the network capacity and reducing costs. We have great confidence in the potential of this technology and in Joe's ability to lead the company through the next stage of development and commercialisation."
Socowave is headquartered in NovaUCD, the Innovation and Technology Transfer Centre at University College Dublin and its R&D centre is located in the National Software Centre, Cork. The company is supported by Enterprise Ireland.
ENDS
9 September 2010
For further information contact Micéal Whelan, NovaUCD, e: miceal.whelan@ucd.ie, t: + 353 1 716 3712, Joe Moore, Socowave, e: j.moore@socowave.com, t: +353 87 237 4701, Kay Larsen/Claire Coladangelo, Balderton Capital, t: +44 (0)20 7250 1446, e: kay.larsen@powerscourt-group.com or e: claire.coladangelo@powerscourt-group.com.
Editor's Notes
Socowave, founded by Joe Moore, is a technology innovator of advanced wireless access systems and has developed the core calibration and asymmetric beamforming know-how required to produce a range of active antenna system solutions. Socowave harnesses the spatial dimension of signals to enhance radio link connections between base station and mobile user. The company brings together know-how and skills in wireless semiconductor design, software development, antenna design and cellular network design and optimisation, to deliver distinctive and leadership technology solutions.
Socowave founder Joe Moore is also chairman of WirelessLAB, a new wireless cluster based in Ireland, whose members range from start-ups to established organisations. In February 2010, WirelessLAB announced a partnership agreement with Cambridge Wireless, a leading UK wireless cluster with a rapidly expanding network of companies interested in the application of wireless technologies. A key collaborative-activity between the two networks is the establishment of special interest groups (SIG), or industry-led technical forums.
Balderton Capital is one of the leading venture capital firms in Europe. Based in London, Balderton manages $1.9 billion in committed venture capital, and has invested in over 90 companies, principally in Europe but also in the US and Asia. Balderton focuses on the technology sector and notable investments include Bebo (acquired by AOL for $850m), Betfair (the online betting exchange), ScanSafe (acquired by Cisco for $183m), LOVEFiLM (the home entertainment subscription service), YOOX Group (the global Internet retailing partner for leading fashion and design brands, listed in December 2009) and MySQL (acquired by Sun Microsystems for $1 billion).
NovaUCD is University College Dublin's Innovation and Technology Transfer Centre. NovaUCD is responsible for the commercialisation of intellectual property arising from UCD research and for the development of co-operation with industry and business. NovaUCD as a purpose-built centre also nurtures new technology and knowledge-intensive enterprises such as Socowave. NovaUCD has been funded through a unique public-private partnership that includes AIB Bank, Arthur Cox, Deloitte, Enterprise Ireland, Ericsson, Goodbody Stockbrokers, UCD and Xilinx.