UNIVERSITY COLLEGE DUBLIN
HONORARY CONFERRING
Wednesday, 4 December 2019 at 11 am
TEXT OF THE INTRODUCTORY ADDRESS DELIVERED BY PROFESSOR MARGARET KELLEHER, UCD School of English, Drama and Film on 4 December 2019, on the occasion of the conferring of the Degree of Doctor of Literature, honoris causa on JOSEPH HASSETT.
_____________________________________________________________________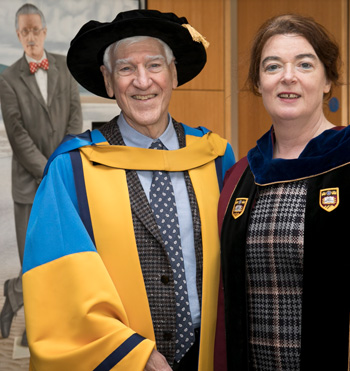 A Uachtarán, a mhuintir na hOllscoile agus a dhaoine uaisle (President, members of the University and Distinguished guests), University College Dublin is proud to honour the distinguished career of Joseph M. Hassett in recognition of his outstanding work as scholar, literary critic and champion of Irish writing who has fostered public initiatives that have safeguarded Irish culture, opened new audiences and readers for Irish literature, and enabled artists to flourish.
Joseph Mark Hassett grew up in Buffalo, New York, son of Dorothy Meegan and Paul M Hassett, and brother of the late Paul Michael, and of Dorothy, Marie and Kathleen. Joe's Irish roots are from Counties Clare and Cork from where all eight of his great grandparents emigrated to Buffalo in the middle of the nineteenth century. One of his great grandparents, Bridget Sullivan, was born on the sea voyage, while the ship was still three weeks away from landing in the United States.
Joe received his BA from the Buffalo, New York Jesuit college Canisius College; there he took two courses with the author, critic and university professor Charles Brady: one 'Yeats, Eliot and Frost' and the other mischievously titled 'English novel from Sterne to Joyce'. These were formative courses for him and began his life-long interest in and championing of Irish writing.
At this graduation time when we think not only of what lies ahead but also of the formative – even chance – encounters that have shaped our student lives, Joe's story is an especially appropriate one. At the end of his junior (third year) in college, he received the St Patrick's scholarship, which sponsored a Canisius college student to attend a summer programme at University College Dublin and also to attend the Yeats Summer School in Sligo. This was a pivotal moment for him and, as we shall see, formative in very many ways.
He returned home to complete his degree (summa cum laude) and then studied for an LLB at Harvard Law School; he was admitted to the New York State bar in 1967. There began a legal career of some five decades in the course of which he has appeared in the highest courts in the country. As partner and now senior counsel at Hogan Lovells Washington DC, Joe has argued before the US Supreme Court and most of the country's Courts of Appeals; deeply respected for his keen understanding of corporate and securities matters, he has specialized in Constitutional law, corporate governance and litigation, and continues in a senior counsel role. He also serves as Counsel to the Embassy of Ireland in Washington.
But as his family, his wife Carol Melton, and children Matthew and Meredith, can testify, Joe has a second profession, a literary one; and we warmly welcome Meredith Melton Hassett who represents the family here today. This other life path, sometimes parallel and sometimes interlinking with his legal life, also emerged from a chance and UCD-related encounter. As a young practicing lawyer he received a sabbatical period during which he returned to the Yeats Summer School in Sligo; there he met the late Professor Augustine Martin who invited him to take a Seminar in Anglo-Irish literature which led to his studying for and receiving firstly an MA and then a PhD in English, specializing on the work of W.B. Yeats.
His doctoral work led in turn to the publication of the first of his three books, three to date: Yeats and the Poetics of Hate (St Martin's Press and Gill and Macmillan), a sensitive and insightful reading of Yeats's personal and professional lives. His second book W.B. Yeats and the Muses (Oxford University Press), a compelling study of Yeats's relationship with nine exceptional women, has also greatly advanced our understanding of the relationship between 'the life' and 'the work' of this great poet. In his third book, The Ulysses Trials: Beauty and Truth meet the Law (Lilliput Press, 2016), the legal and literary lives of the author meet in a highly original and most valuable history of the trials occasioned by the law of obscenity in the United States; especially evident in this book –but a key hallmark of all of Joe Hassett's scholarship – is the manner in which he looks unflinchingly at the implications for freedom of expression in the present and future.
'All art is collaboration' wrote John Millington Synge, and if one looks behind the scenes of many artistic endeavours today the quiet but vital support of Joe Hassett can be seen. Examples include the annual Joseph Hassett Yeats lecture at the National Library of Ireland; his support for the restoration and development of Thoor Ballylee, the 15th century Hiberno-Norman tower once the home of W.B.Yeats; his ongoing support of the Yeats Summer School and of the annual Hassett Family Reading at his home Canisius College which to date has hosted 16 Irish writers including Seamus Heaney, Colm Tóibín, Anne Enright, Paula Meehan and Theo Dorgan. This is a selected list only of the many acts of generosity, good counsel and inspiration that Joe has provided to the world of Irish literature and culture; acts beautifully captured in the epithets chosen by the late Seamus Heaney to describe Joe, and from his beloved Yeats: 'hearer and heartener'.
Joe's generosity to his alma mater, UCD, has taken many forms, including his sponsorship of a MA scholarship in Irish literature named for Professor Gus Martin and his key support of other humanities-related activities. Vitally for the future of Irish studies, he has donated a highly significant collection of Irish poetry from the 20th and 21st centuries to UCD Library Special Collections. These include a number of Yeats's first editions and also correspondence, works of literary criticism and a rich range of contemporary Irish poetry. These works have been the subject of a number of influential exhibitions by Special Collections in recent years. In one of the video resources accompanying the exhibitions, Joe makes a characteristically incisive comment, where he explains that he has collected materials in order to 'recover bits of the visitable past'; thanks to him, that past can be preserved for posterity and visited by many. His donations include an extremely rare first printing of 'Easter 1916', now currently on display in the recently opened Museum of Literature Ireland (MoLI – a partnership between UCD and NLI) and that item is already very popular with visitors.
To conclude, it is especially fitting that we honour Joe Hassett today, as part of a conferring ceremony in which we celebrate the power and value of education, when we reflect on the influence of our own teachers, mentors and educators ('hearers and hearteners'), and when we look to the future that you, the graduating class of 2019, will shape and form, forging your own distinctive life-path. In conferring on him this honorary doctorate, we salute, in esteem and with gratitude, the work of Joseph M. Hassett as advocate for the arts and champion of Irish writing, his exemplary professional careers and his continuing inspirational work as author and scholar.
Praehonorabilis Praeses, totaque Universitas,
Praesento vobis hunc meum filium, quem scio tam moribus quam doctrina habilem et idoneum esse qui admittatur, honoris causa, ad Gradum Doctoratus in Litteris; idque tibi fide mea testor ac spondeo, totique Academiae.
UCD President's Office
University College Dublin, Belfield, Dublin 4, Ireland. T:
+353 1 716 1618