Farewell to the Terrace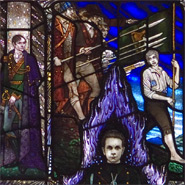 In May 2007, the last medical and engineering students made the journey from Earlsfort Terrace to the Belfield Campus. The Terrace transferred to the National Concert Hall for major redevelopment as a multipurpose concert venue.
A book was also published to mark the occasion of UCD's departure from Earlsfort Terrace. It was edited by UCD School of History & Archives teacher Dr Niamh Puirséil and the Curator of Newman House Ruth Ferguson. To commemorate 124 years of UCD at Earlsfort Terrace, a series of events took place in celebration of the remarkable achievements of the staff and students of the University.
Some of the events that marked the occasion included:
Irish Times Special Report
On Tuesday, 15 May 2007, the Irish Times issued a special report to mark the Farewell to the Terrace celebrations.
Click here to view the special report.


Concert of Music and Literature
National Concert Hall, Thursday 17 May
Celebrating UCD's literary tradition and including excerpts from James Joyce, Flann O'Brien, Maeve Binchy and Kate O'Brien, the evening will feature Joe O'Connor, Tom Kilroy, Marie Heaney and Frank McGuinness with a special performance by John O'Conor.


Retired Staff Celebration
Earlsfort Terrace, Friday 18 May
Reliving memories of the Terrace, a special evening of talks and music for specially invited retired staff.


L&H Challenge
Earlsfort Terrace, Friday 18 May
Student members of the Literary & Historical Society challenge former auditors to a debate.


Earlsfort Afternoon
Earlsfort Terrace, Saturday 19 May
Afternoon tea, music, exhibitions, tours and talks in Earlsfort Terrace.


Commemorative Liturgy
University Church, Sunday 20 May
A commemorative liturgy in University Church, St Stephen's Green.
UCD President's Office
University College Dublin, Belfield, Dublin 4, Ireland.