Resources & Learning Needs Analysis Survey

A number of learning events will be held in 2020; let us know your thoughts about which sessions should be prioritised in this short
survey
.
Public Engagement Resources
Below are links to resources to assist in planning public engagement. Further links will be available via the staff intranet shortly.
- Defining and Supporting Public Engagement at University College Dublin - Summary Report (Nov 2018) - PE Report.
- UCD Research: Outcomes and Impacts: click here.
- SFI Guidance and best practice in public engagement: click here.
- The National Coordinating Centre for Public Engagement (NCCPE) in the UK has created a wealth of resources to support high quality engagement: click here.
- Campus Engage has a series of resources on engaged research and community engagement: click here.
- Responsible Research and Innovation toolkit: click here.
Public and Patient Involvement at UCD
Both nationally and internationally, there continues to be a significant emphasis in the literature on advancing our understanding of what public and patient involvement (PPI) is within health and social care. The UCD PPI Ignite team was successful in receiving funding from the Health Research Board to embed PPI in a variety of different ways across UCD. Our working PPI definition stems from the UK National Institute for Health Research advisory group INVOLVE as "research being carried out "with" or "by" members of the public rather than "to," "about" or "for" them". One specific focus of our program is to overcome the often-identified challenges as noted by UCD researchers and within the literature of engaging 'seldom heard' groups. There is a diversity of PPI activities occurring across UCD, involving a breadth of PPI groups. Our program of work in UCD PPI Ignite involves internal and external partners focused on three key enablers:
1. Research 2. Capacity & Capability 3. Knowledge Mobilisation and Network Formation.
UCD PPI Ignite Champions & Partners

SAGE Advocacy: Bibiana Savin
Spinal Injuries Ireland: Naomi Fitzgibbon
IPPOSI – The Irish Platform for Patient Organisations, Science and Industry: Dr Derick Mitchell
Cystic Fibrosis Ireland: Philip Watt
Disability Federation of Ireland: Dr Meredith Raley
Family Carers Ireland: Dr Nikki Dunne
Dublin Simon: Sharon Keogh
Ireland East Hospital Group: Mr Paul Gallagher
Health Experiences Research Group, University of Oxford: Professor Sue Ziebland
UCD Conway Institute: Prof Liam Gallagher and Prof Amanda McCann
School of Nursing, Midwifery and Health Systems: Dr Deirdre O'Donnell, Dr Carmel Davies, Prof Eilish McAuliffe. Dr Éidín Ní Shé, Prof Thilo Kroll
School of Public Health, Physiotherapy and Sports Science: Prof Catherine Blake and Assoc Prof Brona Fullen
School of Social Policy, Social Work and Social Justice: Dr Sarah Donnelly, Judy Walsh & Dr Naonori Kodate
School of Medicine: Dr Rachel Crowley & Dr Marie Therese Cooney
Contact: Dr Éidín Ní Shé: eidin.nishe@ucd.ie Professor Thilo Kroll: thilo.kroll@ucd.ie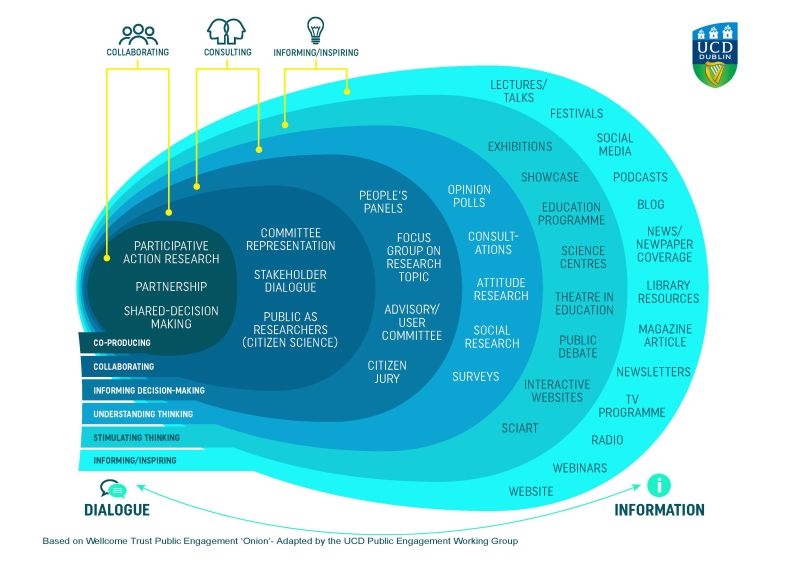 To download the Public Engagement spectrum (the "avocado") above please click here: UCD Spectrum of Public Engagement