Alumni Awards Dinner 2012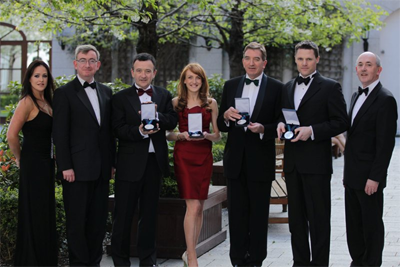 Tara Collins - UCD School of Business, Ciarán Ó hÓgartaigh (DipPrAcc '89) - UCD School of Business, Colm Lyon (BComm '84, MMangtSc '85) - Realex, Emma Farrell (BComm (Int) '11), Niall FitzGerald KBE (BComm '69) - Hakluyt & Co. Ltd, Rob downes (MBA '11) - AWAS, Paul Haran - UCD Smurfit School
Dublin, Fri. 27th April 2012: Colm Lyon, Founder & CEO, Realex Payments and Niall FitzGerald KBE, are to be honoured this evening as UCD Business Alumni of the Year. The awards, which are the highest honour UCD School of Business can bestow on a graduate, recognise alumni that have demonstrated proven leadership skills, notable achievement in business and a significant contribution to the community, whether in Ireland or abroad. Lyon and FitzGerald join a list of prominent business graduates of UCD who have been honoured including Patrick Kennedy (Paddy Power), Senator Feargal Quinn, Gina Quin (Dublin Chamber of Commerce), Aidan Heavey (Tullow Oil), Michael Carey (Jacob Fruitfield), Tony Garry (Davy Stockbrokers), Liam Fitzgerald (United Drug), and Vivienne Jupp (Accenture).
Colm Lyon graduated from University College Dublin with a BComm in 1984 and MMangtScin1985. Colm is Founder and CEO of Realex Payments. Since starting Realex Payments in 2000, Colm has led the business to its current position as a one of Europe's largest and most successful online payments businesses. Realex Payments processes payments for businesses selling online and has some of the world's leading international brands among its 6,000 clients. The business has over 100 staff in three offices (Dublin, London and Paris), turns over €9m euro per annum and processes in excess of €12bn in payments annually.
Colm has worked in financial services related businesses for over twenty five years, starting with fourteen years in the banking sector. He is passionate about business, start-ups and in particular internet businesses. In 2009 he founded the "Internet Growth Alliance", a business led initiative to support the international growth ambitions of Irish Internet businesses. This led to the creation of the highly acclaimed Enterprise Ireland iGAP development.
Over the past decade, Colm has received numerous accolades acknowledging his contribution to the internet industry and frequently commentates for press as a payments and internet industry expert and visionary about the future of money.
In addition to his studies at University College Dublin he has spent further time over the past few years in Harvard and Stanford Business School with the Leadership 4 Growth programme.
Niall FitzGerald graduated from University College Dublin with a BComm in 1969. Until the end of May 2011, he was the Deputy Chairman of Thomson Reuters, following the creation of the new company in April 2008. Prior to this he was the Chairman of Reuters from October 2004, having spent over thirty years with Unilever in a variety of commercial and financial jobs in several countries.
Niall FitzGerald joined the Boards of Unilever PLC and Unilever NV in 1987 and served respectively as Finance Director, Foods Director and Detergents Director until his appointment as Chairman and CEO in 1996, in which he continued until retiring in September 2004. During his Unilever career he lived and worked in Ireland, the Netherlands, South Africa, the USA and the UK.
Niall FitzGerald joined the Board of Reuters as a non-executive director in 2003 and became Chairman in 2004. In April 2008 he became Deputy co-Chairman of the newly formed Thomson Reuters. In November 2008 he was appointed Chairman of Hakluyt & Co. Ltd and was appointed Chairman of the Board of Trustees of the British Museum in 2006. He is also a Trustee of the Leverhulme Trust. He is a member of the Advisory Board of Spencer Stuart and a Senior Advisor to Allen & Co.
He has had many previous roles as Chairman, Co-Chairman, non-executive director and board member of international Companies, Advisory Boards and Committees.
Mr. FitzGerald was awarded an honorary Knight Commander of the British Empire in 2002, and holds a number of Honorary Doctorates from American, British and Irish universities.
Speaking of this year's winners, Professor Ciarán Ó hÓgartaigh, Dean, UCD School of Business, said, "We are delighted to honour Colm Lyon and Niall FitzGerald KBE as our 2012 Alumni of the Year. Both have successfully led their organizations through highly competitive environments with passion and perseverance. In doing so, they have helped to shape their industries. They are an example to us all, demonstrating the ultimate professional achievement in their areas. I hope that UCD Business School students will strive to emulate their determination and success."
Speaking about his award, Colm Lyon said, "I am honoured and delighted to receive this medal. UCD has given me many things - among them being a real appreciation of business and the role it plays in building welfare. UCD has shaped my knowledge of business and provided me with the platform upon which I could engage in building a business The UCD Smurfit School as the leading business school in the country will continue to give a world class education to the upcoming generation of Irish business people."
Acknowledging the accolade and the importance of his time at UCD, Niall FitzGerald KBE said; "The lessons I learned in UCD gave me the confidence to succeed in business. Through my education, I had the skills I needed to make my ambitions a reality."
Profits from tonight's fundraising dinner will go towards the UCD Business Scholarship Fund which supports students who might not otherwise have access to third and fourth-level education. In particular it focuses on doctoral studies to develop the academic excellence that is so vital for today's knowledge economy.