Course Overview
If you have a strong interest and ability in economics, maths and statistics, this degree provides everything you need for a future career in the areas of financial economics, banking and finance. Recognised as one of the premier degrees in Ireland and internationally in these areas, it equips students with outstanding expertise in quantitative methods, analytical skills and a rigorous preparation in economics and finance. The competence in quantitative methods and analytical skills that the programme develops provide the essential background for learning Economics, Finance and, soon, Information Science properly.
Reputation
Internationally-recognised academics teach a progressive curriculum in excellent learning facilities, including a Data Analytics Lab that houses the most up-to-date Bloomberg Financial Terminals and computing software, in a stimulating intellectual environment and intellectually challenging classes. It is a recognised course with a strong industry reputation and is matched by the recognised profile of our graduates.
Quick Facts
3 Years (4 with Internship)
Duration
The Future of Business Education
The start of the 2019/2020 academic year saw the launch of the UCD Moore Centre for Business—a new world-class facility energising the Belfield campus with the latest teaching technologies and innovative working spaces for business learning.
Integrating fully with the UCD Quinn School across all three levels, this exciting new wing delivers agile spaces to meet evolving business needs in a flexible learning environment that will expand the student experience. UCD Moore Centre for Business is a fresh canvas of active learning classrooms, digital collaboration spaces, a showcase auditorium, and extensive co-working zones.
The Quinn Experience
Brian Liston interned in Skype as part of his course here in UCD. Brian is now an angel investor in Silicon Valley.
Take a look inside UCD's Quinn School and the Moore Centre for Business and find out for yourself the wonderful facilities available to our students.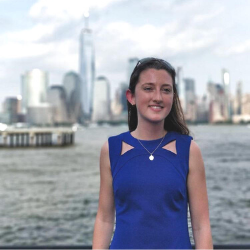 Katelyn O'Hara, Securities Division at Goldman Sachs
"Reflecting back on my time in Economics and Finance and the past year spent in my current role, I believe that Economics and Finance well equipped me to start my career path. The technical skills in mathematics, statistics, finance and economics taught coupled with the problem-solving and communication skills established in group projects and class presentations over the course of the degree are highly relevant to the job market today. In particular, understanding the global markets and learning coding languages for business intelligence enabled me to make commercially relevant enhancements in my current role."
Brian Liston, Co- Founder at Seed CX
"The programme was hugely beneficial in bridging the gap between academic under- standing and the work I'll be doing in the future. Overall it has pushed me to become more experienced, more focused, more skilled and generally more employable. Without a doubt, the ten months I spent with the Skype finance team was one of the most beneficial periods of learning and development I have undergone, one which I would highly recommend to anybody interested in expanding their knowledge, their network or their experience."