Programme Overview
This part-time programme is designed for mature students, with work experience, who wish to return to education to complete a diploma or degree in Business Studies while continuing to work. Lecture attendance is once a month on Friday and Saturday from 9am-5pm.
Students on the Diploma and Bachelor of Business Studies attend the UCD Belfield Campus for six weekends over the course of the academic year. Our students travel from all over Ireland, and abroad, to attend campus lectures given by leading experts. The campus experience is considered a key component of the programme where our students can interact with their classmates, lecturers, and avail of the University's facilities.
If you decide to take up a place on our programme you will be appointed a Learning Support Officer who will be the main point of contact for you throughout your studies. Our Learning Support Officer Kate Collins provides experienced academic support to students on our programmes.
Applications for the 2023/24 academic year are now open. To speak with a member staff in relation to any queries you may have, or for further information email: bbs@ucd.ie
Quick Facts
2 years Diploma / 4 years Degree
Duration
EU Student Fees (2023/2024)
Non EU Student Fees (2023/2024)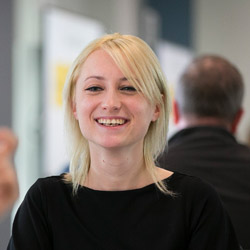 Tatiana Gutu Diploma of Business Studies student (Stage 2)
"I have been managing in retail for years before commencing this programme. The world of business is fuelled by change and creativity and I was looking to develop further. This programme allowed me to pursue my academic goals while being full time employed and I couldn't be happier with my choice. DBS offers great support which was much appreciated, the modules are delivered in an excellent format and the flexibility of home study suits my current position and it is also immensely rewarding.
The direct relevance of the modules to the workplace made the material very applicable. I would recommend this to anyone working in a business environment and for those looking to pursue a career in business."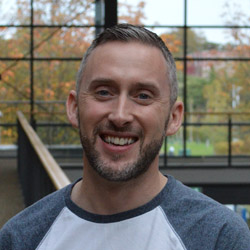 Rory Holohan Bachelor of Business Studies Graduate (2020)
"Choosing to do the DBS/BBS programme is probably the best professional decision I've made in my 20+ years working in business. It has unlocked my potential, opened my mind to new possibilities and radically improved my self worth. The value of learning while working cannot be underestimated, this has given me a much deeper understanding of the organisational environment.
I work for a large multinational company, so all of the content has been relevant to me. It surprised me how much I enjoyed economics, and my long standing cynicism of HR has been turned on it's head! In particular, change management is a fascinating topic which will help me navigate the ever changing environment.
The structure of the programme is very supportive of individuals trying to maintain a work/life/study balance. There is always support on the end of the phone or through email, and student forums are very helpful for thrashing out ideas and creating a shared understanding of what is expected. In short, you're never alone."