Launch of Deloitte data Analytics Lab
Deloitte and the UCD Quinn School of Business have collaborated on the establishment of an analytics lab for both students and faculty, which facilitates a range of diverse learning experiences outside of the traditional classroom environment.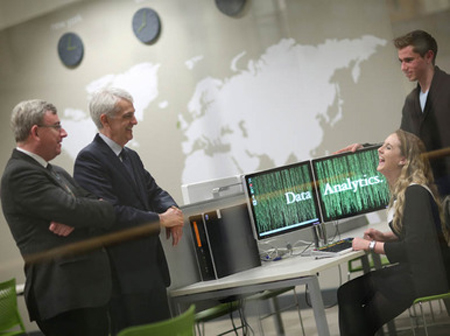 David Hearn of Deloitte and Professor Ciarán Ó'hÓgartaigh with students Rachel Breslin and James Tighe
Deloitte continue to make a significant investment in the Data Analytics Lab over the next four years. The lab is located in the newly developed Innovation Corridor in the School. The Innovation Corridor is a state of the art learning environment which provides the space for students to collaborate on group work in a purpose built environment.
Commenting on the launch, Brendan Jennings, Managing Partner, Deloitte said:
"Both Deloitte and Quinn School of Business recognise that when businesses and universities work together effectively they become a powerful engine for innovation. The Deloitte Data Analytics Lab is more than just a lab, it is a commitment from Deloitte to continue to support the school over the coming years through guest lecturing, course content review and the top of the range Bloomberg terminals in the lab. The lab also portrays our mutual commitment to excellence in learning and development."
Congratulating Deloitte on the launch of its Data Analytics Lab, Professor Ciarán Ó hÓgartaigh, Dean, UCD Business School, said: "The Deloitte Analytics Lab has complemented our commitment to provide the best quality teaching in the fields of finance and business analytics. The state of the art facilities and support services have equipped our students with the analytical ability for a successful career in Ireland and internationally.
We are delighted to partner with Deloitte in delivering excellence to our students"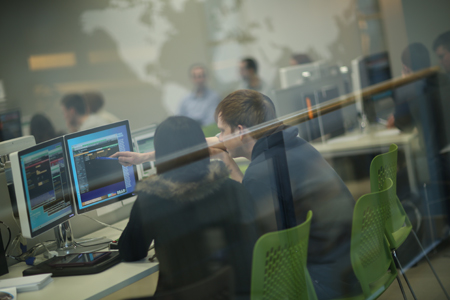 The Bloomberg terminals provide real time financial data for students