Preparing for a fast-paced globalised world of work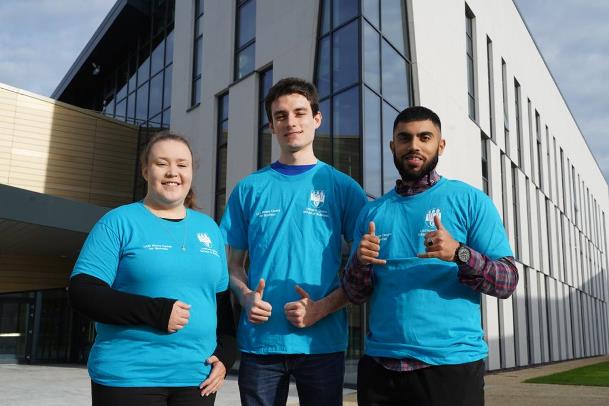 Students at the newly opened Moore Centre for Business at the UCD Lochlann Quinn School of Business will experience an educational environment that not only looks towards the future but has been designed with flexibility at its core in order to prepare them for a rapidly changing world of work.
Quinn School director, associate Prof Maeve Houlihan, explains that the new centre reflects changes in the overall approach to teaching and learning. "The bottom line is that academia has been all about the curriculum and getting that right," she says. "It's been about making sure we provide students with research-informed content and ideas. We help them build up their skills to think and do things differently and acquire the professional skills they require for their future careers. That's still the formal element of what we do."
Distinguished graduates
But feedback from alumni has informed a new way of thinking. "When we bring back our distinguished graduates, they talk to us about new ideas and opening your mind to new thinking. College is also about the people you meet, and the chemistry and collaboration between them. Whether it's a project or organising a social weekend away, it's about experiences. We are encouraging that more experiential way of learning. What the Moore Centre does is bring together the formal and informal."
The €20 million centre is fully integrated with the existing Quinn School building and increases its size by almost half. Key features include the PwC Lecture Theatre, a transformative space that promotes student dialogue with throwable mics and amphitheatre style seating, the KPMG Skills Zone which supports a student's personal and professional skills development, the EY Entrepreneurship and Innovation Hub and the George Moore Digital Collaboration Space which enable business students to tackle complex business ideas through the latest advances in learning technology.
The centre also boasts extensive coworking spaces which mimic those in start-ups and innovation hubs and encourage informal and formal interactions and collaboration. Media suites, problem-solving classrooms with Oculus virtual-reality headsets, a green roof and slow down zone to encourage mindfulness, are some of the other notable features of the new learning environment.
"We are in the business of mixing experience and learning opportunities," Houlihan adds. "We are getting better at being collaborative and open-minded, at being thinkers rather than doers. That's what we need to do in the digital world."
This new blend of learning will help students develop what she refers to as the "C skills, the connective tissue for all our capacities; communication, collaboration, cultural intelligence, curiosity, creativity, continuous learning, caring and empathy. They are sometimes described as employability skills, but we are more than our employability, and they also involve the capacity to live well.
"All of these C words are easy to say," she continues. "It's easy to say they are part of the syllabus. But they are really hard skills to learn because we are human beings with strengths and limitations. We must take the best of what we have and complement that with what other people have to offer. The Moore Centre is preparing students for a very different world and what employers are looking for.
She uses Guinness as an example of how the world of work has changed. "There used to be thousands of people working there in St James's Gate on everything from barrel making to beer brewing," she says. "Now it's less than 200. Many of these skills have been lost but people now need new skills to understand their craft."
Engaged
She points out that accounting has changed greatly as well with many of the traditional skills and tasks having been automated but that students still have to understand the basic DNA of accounting if they are to become proficient at the craft.
"Open is the big one," he adds. "In the parlance of the day it is the growth mindset. People have to be open and actively engaged in the world and learning all the time. We are massively diverse as human beings and some of us are more technologically capable than others. We need to be complementary and bring the best out of each other, that way everyone wins.
"As we move to an ever more global business environment it's what we can learn from each other that will be most important. Once you get out into the market the core skill will be collaboration and that is what the Moore Centre is aiming to support. We want to prepare our students for the fast changing, globalised world they are moving into."
That pace of change will be challenging, she adds. "The idea of changing job every three years is fascinating. Human beings like stability and security. We like to be able to plan ahead, rear families, get mortgages and so on. The global piece is very important to us as well. Students in the Quinn School and the Moore Centre have a fundamentally global mindset. We have students from Beijing, Boston, Bogota and Ballyhaunis and more than 50 countries are represented on our courses. That offers great opportunities to learn and share experiences."
Original article published in the Irish Times