Preparing for the future of business education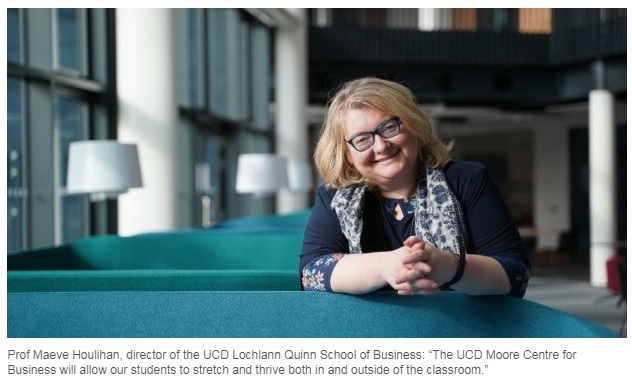 The €20 million UCD Moore Centre for Business opened its doors to students for the first time earlier this month. The new centre doubles the size of the UCD Lochlann Quinn School of Business and is named after UCD alumnus and renowned businessman Dr George Moore.
Integrating fully with the existing Quinn School across three levels, the new wing includes interactive learning hubs, a 320-seat lecture theatre, and extensive co-working zones designed to mimic those in start-ups and innovation hubs. It also features a range of new facilities to enable business students to tackle complex ideas through the latest advances in learning technology.
Key features of the new business centre include the PwC Lecture Theatre, the KPMG Skills Zone, the EY Entrepreneurship and Innovation Hub and the George Moore Digital Collaboration Space.
"The UCD Moore Centre for Business exemplifies how leadership from alumni and donors, academia, industry and the student body can collaborate to design an educational environment that not only looks towards the future, but is made with flexibility at its core in order to prepare students for a rapidly changing future," says Prof Anthony Brabazon, UCD dean of business.
"The new facility is an exciting part of ongoing campus development plans that firmly place UCD as Ireland's global university," he adds. "We are sincerely grateful for the extraordinary foundational gift donated by Angela Moore in memory of her late husband Dr George Moore."
According to associate professor Maeve Houlihan, director of the UCD Lochlann Quinn School of Business, the Moore Centre will change the nature of teaching. "Our students have told us that when we change spaces, it changes how we teach and what is learned. The UCD Moore Centre for Business will allow our students to stretch and thrive both in and outside of the classroom, along with faculty and fellow students, which is a better representation of how they will work after graduation.
"This learning environment gives them added insight and experience in developing communication and problem-solving skills, teamwork know-how, and inter-cultural confidence," she adds. "This is about students, about business, about society and about changing the way we live and work. This is the future of business education."
Continuing innovation
She sees the Moore Centre as part of the continuing innovation in teaching and learning which started when the Quinn School opened back in 2002. "It was very much teacher-led, with complementary technologies back then," she says. "We were the first business school in Ireland to introduce small group learning and move out of the big lecture theatres. That worked well but it was still very classroom-based. What we will see in the Moore Centre is the continuing transition from talking at people to side-by-side learning by doing."
She believes it is highly appropriate for the centre to be named after George Moore. A UCD commerce graduate who went to the US, where he managed the market analysis division of a company called CACI International in Washington DC, Moore went on to sell another business based in San Diego called National Decision Systems in 1990 before setting up marketing technology company Targus Information in 1993. Targus provided caller identification services and helped clients to identify, verify and locate customers, and grew to process about 100 billion transactions a year, generating $149 million a year in revenues.
"George Moore arrived in UCD as a 17-year-old from Dundalk," Prof Houlihan says. "Going to college was not the norm for someone from his background at the time. He did commerce here and it opened up the world for him. But he looked at the world in a different way to many other people. He had a technological mind and was able to combine coding with business. He saw market opportunities that others couldn't. He foresaw the power of data analytics and the cloud back in the 1970s. He was way ahead of his time."
Prof Houlihan talks about the new centre as a place where ideas can collide and where people can connect and collaborate. Indeed, it will be a place which will help students develop what Prof Houlihan describes as the "C skills", which will be so critical to them in the future world of work.
"What kind of skills are needed when the future is so uncertain?" she asks. "First and foremost, we need knowledgeable, informed, critical thinkers and complex problem-solvers. Domain expertise gives us structured frameworks and analytical tools to apply to complex problems."
Quinn School students will still acquire that domain expertise, but the Moore Centre will help them develop the other skills required to thrive in a changing world. "A key emerging skill is the related capacity to unlearn and relearn," Prof Houlihan adds. "We are also learning to crowdsource and crosscheck our knowledge. Critical and constructive thinking is becoming the key value-add for this generation."
And this is where the C skills come in. They are what she calls "the connective tissue for all our capacities: communication, collaboration, cultural intelligence, curiosity, creativity, continuous learning, caring and empathy. These are sometimes described as our employability skills, but we are more than our employability. They also involve the capacity to live well. The Moore Centre enables us to combine formal with experiential learning to bring the best out of all of our students."