Quinn Global Life 2019
The UCD Lochlann Quinn School of Business recently hosted 'Quinn Global Life' – a week-long celebration of diversity designed to foster a culture of awareness of global cultures among the Quinn students and staff population. There are over 50 different nationalities in the Business School's 2000+ student population and more than 25 different nationalities among our teaching, support and professional staff which makes for many interesting conversations both inside and outside the classroom!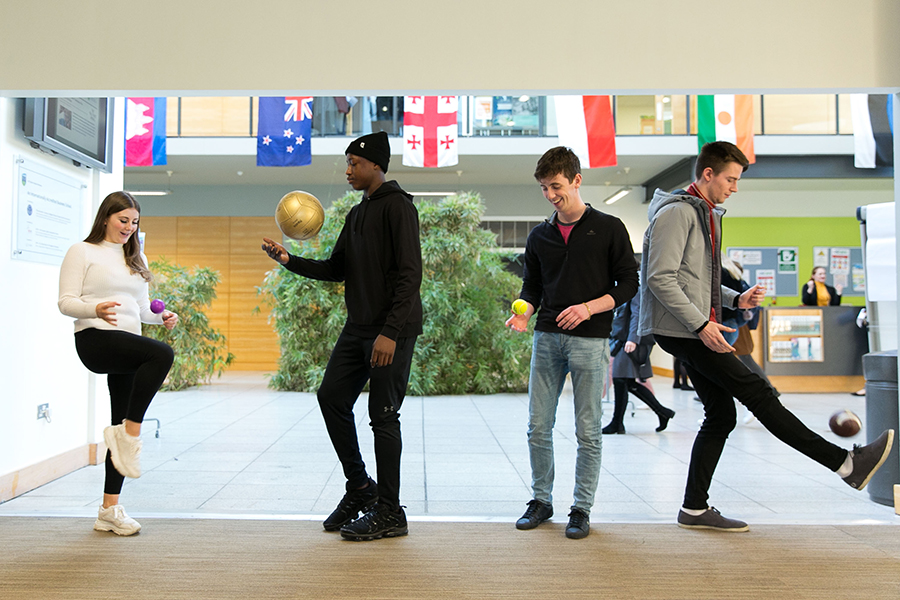 One of the quirky activities which featured in the Quinn Global Life line-up included a global style keepy-uppy game which counted the kicks and flicks of keeping a ball from two different games (e.g. golf, american football, baseball, basketball, tennis, hurling and gaelic football) up in the air over a two minute timeframe. Bonus points were awarded for gender and nationality mix! The winning team were Stage 1 Economics & Finance students Mark Fagan & Ryan Lucas with a combined score of 161!
Among the activities that took place were daily Global Geography Challenges, a screening of the classic film "The Roaring Twenties" exploring business ethics and the entrepreneurial spirit, a Chopstick Skills Team challenge, a Keepy Uppy (global style) competition, a Building Cultural Awareness Interactive Workshop and a Mini Case Study Sprint Challenge.