Time capsule to capture moment in UCD history
Dublin, July 29, 2019 — The UCD Quinn School prospectus, a copy of the Brexit withdrawal agreement, a receipt from Deliveroo curry, a copy of the Sustainable Development Goals, a phone charger and editions of Ireland's top newspapers are a few of the items being put forward for inclusion in a time capsule that will mark the opening of the new UCD Moore Centre for Business at the UCD Belfield campus.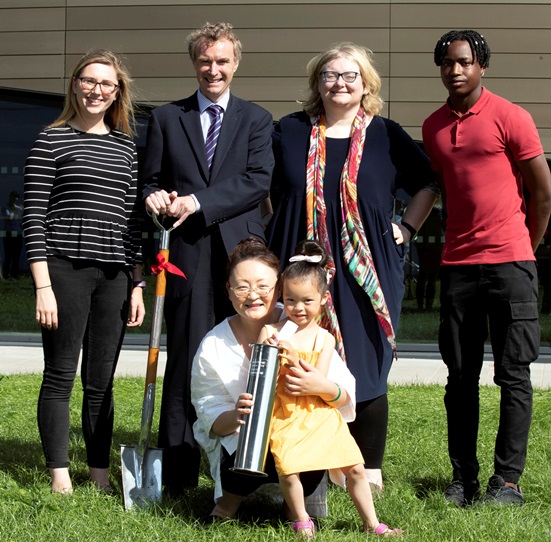 Pictured top row l-r: Megan Fanning, Student, Professor Tony Brabazon, Associate Professor Maeve Houlihan, Daniel Edunjobi, Student. Pictured bottom row l-r: Dr. Linda Yang Deeks, Pearl Deeks.
A special artwork created by 4-year-old Pearl Deeks will also be included in the time capsule. Pearl, the daughter of UCD President Andrew Deeks and his wife Dr Linda Yang Deeks the UCD College of Business Intercultural Development Officer, was asked what she thinks work will be like when she is her parents' age. "I think it will be 'play work,'" commented Pearl as she added a picture of a pink building surrounded by glitter to the capsule. Pearl will be 54-years-old when the time capsule is opened and she is reunited with her drawing to assess if her prediction was accurate.
The capsule will be buried later in the year and marked with a plaque that will invite future UCD staff and students to unearth the stainless steel canister on September 2, 2069. It will be at the launch of the UCD Moore Centre for Business on September 2, 2019, as well as events throughout the autumn. The entire UCD Business Community, which has over 84,000 alumni worldwide, is invited to submit notes and ideas for items to be included in the time capsule at businessalumni@ucd.ie.
On the call for ideas, Professor Maeve Houlihan, Director of the UCD Lochlann Quinn School of Business, said:
"UCD Moore Centre for Business, the extraordinary new wing of the UCD Quinn School, is about the changing ways we live, work and learn. Creating a time capsule to be opened 50 years from now is a brilliant way to get our students thinking about the world right now, connecting their current and future selves and how they can have a positive impact."
Ayrton Kelly, a current UCD Bachelor of Commerce student and Letterkenny native, said: "The time capsule presents an opportunity for future UCD Quinn School students to assess changes over the past 50 years. What will they think of us? Are we doing as much as we can to ensure that they have all the opportunities that we do in regards to important issues like sustainability, human rights and poverty?"
Eoghan Whelan, a current UCD Bachelor of Commerce student and Dublin native, said: "Fifty years from now, I hope to be there when the capsule is dug up. I am excited to see how the students will react to what they find and whether the contents are still in any way relevant to society. It's an exciting time to be part of this new chapter in the UCD Quinn School and the UCD Moore Centre for Business."