UCD College of Business Launches Green Challenge 2023
By Beth Gormley, UCD College of Business, PR and Communications Manager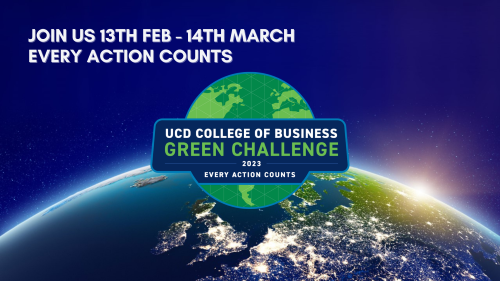 Members of our Global Alumni Community—as well as our students, faculty and staff—are invited to join the fight against climate change by making sustainable changes to our daily lives.
From 13th February to 14th March 2023, our UCD College of Business community will take planet-positive actions and track them on the climate action platform, Pawprint.
Our challenge goals are to take ownership of our environmental impact, make sustainable changes to our daily lives and collectively save 40,000kgs of CO2e from entering our atmosphere by the end of the challenge— the equivalent of saving 68,000kgs of rubbish from landfill!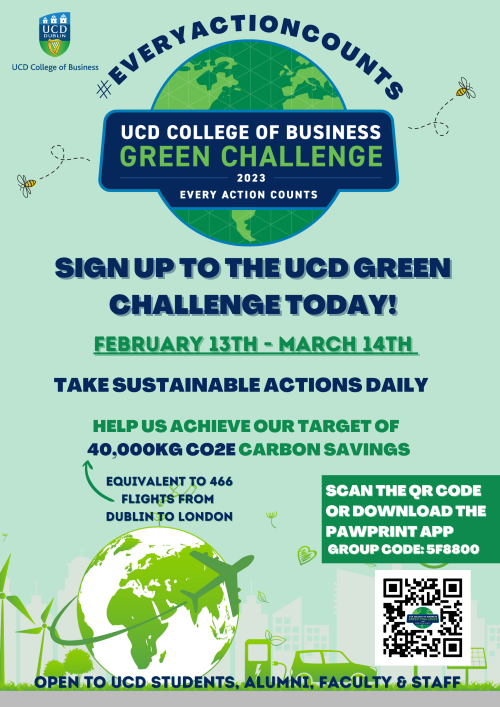 Equally, we encourage our Alumni to think more about our daily behaviours and how small changes can make a big impact. We hope that the challenge will encourage behaviour change that starts during the challenge, but lasts into the future.
Download the Pawprint app now to join our UCD College of Business Green Challenge. If using a non UCD email address, the app will prompt for the UCD Community code 5f8800!
The in-app eco-library houses over 350 actions, ranging from planet-friendly dietary swaps, energy and waste-saving hacks, to ways we can protect biodiversity and amplify the sustainability agenda.
We'll be highlighting themed actions each week, but all actions logged on the app throughout the challenge will count towards our grand total.
Further information on how to get involved can be found here.
Use #EveryActionCounts to join the conversation on social media.