UCD Quinn School Business Mentoring Programme celebrates 5 year milestone
By Beth Gormley, UCD College of Business, PR and Communications Manager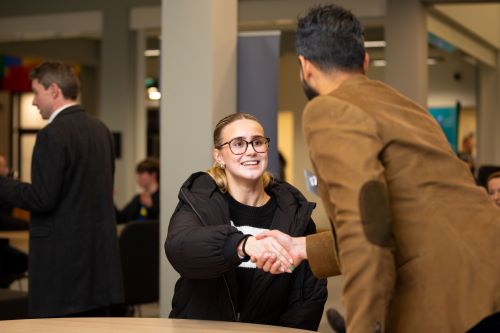 The UCD Quinn School Business Mentoring Programme marked its five-year anniversary with the highly anticipated, first in-person event since 2019. This year also recorded the largest number of programme participants at 320 students and alumni, seeing significant growth from the original pilot programme of 28 individuals.
There were over 170 in-person attendees of paired Stage 2 students from across the five UCD Quinn School undergraduate programmes and their alumni business mentors. An additional 100 participants followed the live stream event, which took place in the UCD Moore Centre for Business, from Australia, Europe, South Africa and the US.
"The objective of the popular programme is for students to gain practical insights into the mind-set, business and personal skills required to succeed in employment and to support their careers, professional and personal development," said UCD Quinn School Mentoring Manager Meeta Dutt. "In addition, the programme looks to build students' knowledge and confidence in relation to career planning."
The launch marks the commencement of a six-month mentoring commitment where student mentees are matched with experienced UCD College of Business alumni mentors based on mutual areas of interest.
"The programme is international in nature and is fluid, which allows for both in-person and virtual options depending on the location of the mentor and the mentee," continued Meeta.
Run jointly by UCD Quinn School of Business in partnership with UCD Business Alumni, the programme provides students with an opportunity to gain insights into the business and personal skills required to succeed in today's competitive economy and to increase their confidence and employability through development of professional and interpersonal skills.
"All of the mentors are experienced UCD College of Business alumni from a diverse range of business roles and sector backgrounds who are committed to sharing professional knowledge and expertise with undergraduates," said Fearghal Murphy, Events and Communications Coordinator, UCD Business Alumni Relations.
"The range of expertise within our community and the willingness of mentors to dedicate their time is truly outstanding. With the largest business alumni base in Ireland, UCD Quinn School offers students the opportunity to develop professional relationships with experienced professionals in their area of interest from the moment they arrive on campus. This early development of professional networks can truly have a positive impact on their future career prospects."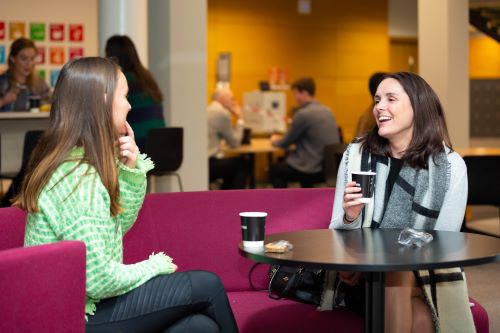 Students are paired with alumni mentors through a hand-picked selection process that focuses on their specific areas of interests and a mentor's professional experience. This individual attention allows for meaningful connections to emerge setting up students for success.
"We are particularly proud of feedback from mentees about how transformational this experience can be in terms of enhancing their professional and personal skills, together with many developing greater confidence to tackle the employment market head on," said Meeta.
"With 90% of students stating that they had improved their professional skills, the programme is a key differentiator for business students and supports UCD Quinn School's commitment to supporting and developing students and preparing them for their careers."
To learn more about the UCD Quinn School Business Mentoring Programme watch this short video and contact Meeta Dutt at Meeta.Dutt@ucd.ie.