UCD Smurfit School Director selected as first business school leader to prestigious Gender Diversity List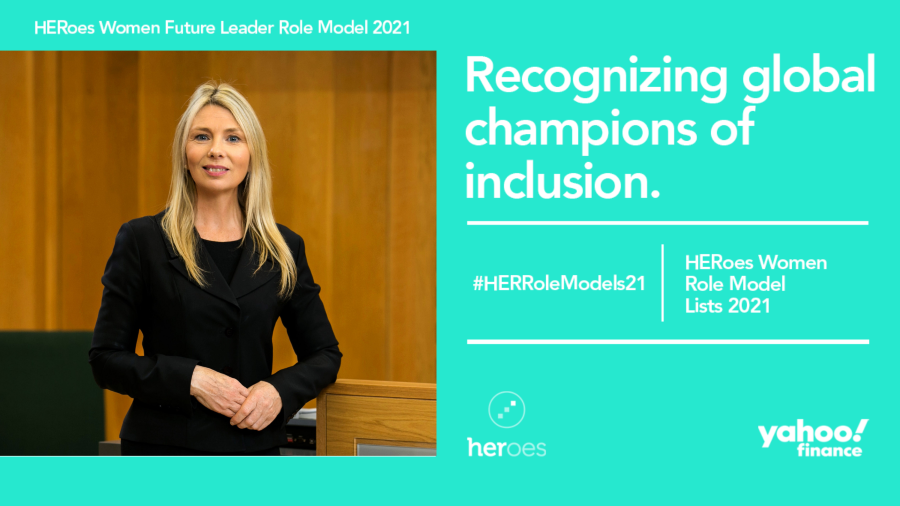 The 2021 HERoes Future Female Leaders list was released on the 9th of September 2021 celebrating 100 inspirational women who are making a significant contribution to gender diversity at work.
Professor Gerardine Doyle is the first woman to serve as Director of UCD Michael Smurfit Graduate Business School and is the first ever business school director to be included in the elite list which is developed by diversity and inclusion organisation INvolve, with support from Yahoo Finance UK.
"It's vital that women across the globe can succeed and these Role Models are essential in dismantling barriers to progression and creating opportunities for women to be successful while also being able to be their authentic selves in the workplace," said Founder & CEO of INvolve, Suki Sandhu OBE. "I'm thrilled to be celebrating this incredible group of Women and Advocate Role Models who are championing inclusion and inspiring the next generation of talent."
As director of the UCD Smurfit School and Associate Dean of UCD College of Business, Gerardine was responsible for leading the school's first dedicated women-focused recruitment campaign in 2020, which aimed to increase the number of women on the MBA and MSc Finance programmes to at least 50%.
Since 2018, the average percentage of women in all MSc programmes has already increased from 49% to 54%.
Professor Doyle also spearheaded the creation of the School's new Executive MBA programme which is designed specifically with global executives and women in mind. The design of the programme addresses key entry barriers identified by women including flexibility, confidence and cost.The School also established three new scholarships for women and one new Equity, Diversity and Inclusion (EDI) scholarship—the first of its kind in an Irish business School.
Additionally, the 'UCD Smurfit Women, Inspiring More' initiative, co-founded by Gerardine along with students and alumni, was designed to raise awareness of challenges that women face when transitioning from education to a professional environment, and to form a network where these topics can be safely discussed.
"I am honoured to be included for the first time in the 100 Women Future Leaders List alongside a group of such inspiring and impactful champions of change and workplace inclusion," said Professor Doyle. "However, the nomination is reflective of the work of many colleagues, alumni and students all working together, side-by-side, to advance gender equity within business education so that everyone has a voice and is enabled to achieve their full potential. This team award is a signal that together we are moving in the right direction as we continue our critical work in ensuring that all of our students are equitably supported in order to become impactful business leaders."
Nominations were reviewed by the HERoes judging panel, which includes director at Yahoo, Lianna Brinded. The panel scored each person on the influence of their role, their impact on women inside and outside the workplace, and their business achievements.
Professor Doyle joins fellow Irish leaders including Francesca McDonagh, Group Chief Executive, Bank of Ireland and Meliosa O'Caoimh, Country Head – Ireland, Northern Trust in the 100 Women Executives Category; as well as Margaret Gribben, Performance Manager, Irish Life; Lara Byrne, Director, Global Digital Commerce, Fiserv; Sinead Maxwell, EMEA Corporate Citizenship Program Manager, Fiserv; and alumna Olivia Maguire, Portfolio Manager, J.P. Morgan Asset Management in the Future Leaders Role Model Category.
The full HERoes Women Future Leaders Role Model List 2021 can be found here.