A‌thena SWAN at SLCL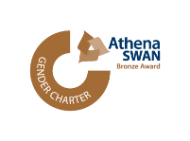 UCD School of Languages, Cultures and Linguistics has received an Athena Swan Bronze Award in March 2020, highlighting our commitment to gender equality.
The Athena Swan charter was established in 2005 to encourage and recognise commitment to advancing the careers of women in science, technology, engineering maths and medicine (STEMM) in higher education and research.‌‌ In May 2015 the charter was expanded to recognise work undertaken in arts, humanities, social sciences, business and law (AHSSBL), and in professional and support roles, and for trans staff and students. The charter now recognises work undertaken to address gender equality more broadly, and not just barriers to progression that affect women.
UCD was awarded an Athena Swan Bronze award in March 2017 and is now supporting schools to apply for Athena Swan School awards.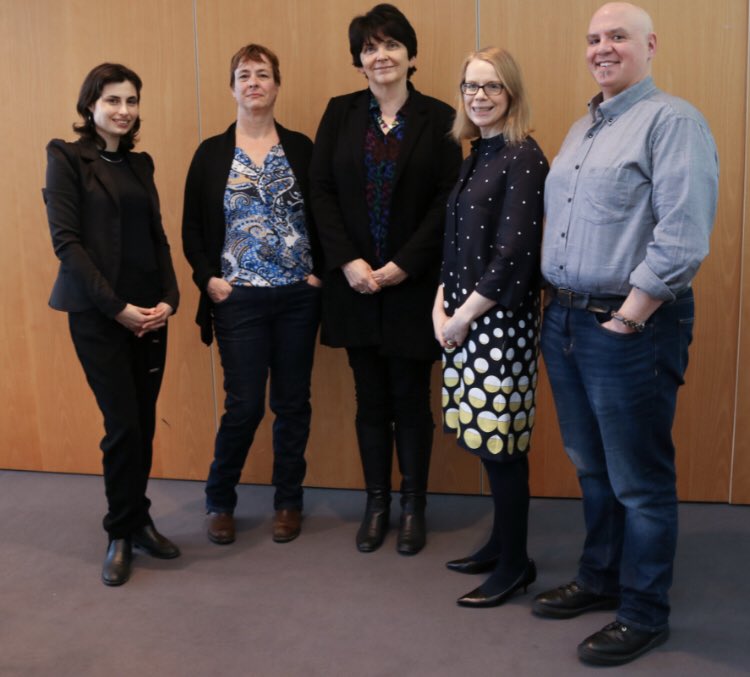 Show/hide contentOpenClose All
We would like to thank all previous members of the SAT Team for their support and hard work on the first Athena Swan Application:
Dr Pascale Baker (Former Co-Chair, Spanish Studies)
Gillian Pye (Associate Professor of German)
Mark Chester (BA Joint Honours, Major in Spanish and Music)
Sandra Weber (DAAD Lecturer in German Studies)
Selena Daly (Lecturer in Italian Studies)
Milica Djurdjevic-Flatley (PhD candidate in Spanish Studies and tutor)
Jason Andres (BA Joint Honours, Major in Information & Social Computing and Linguistics)
Rosemary Shannon (MLitt candidate in Linguistics)
Below the SAT Team in November 2018: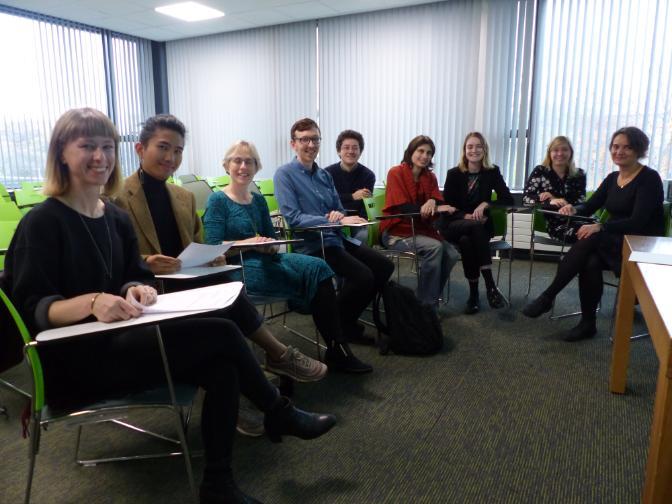 Athena SWAN: Main Challenges
The Athena SWAN analysis and report identified the following main issues for the School to deal with regarding gender equality:
There has been a historically slow progression among female staff members from Assistant to Associate Professor. This is being tackled through a mentoring programme within the school and targets for promotion to enable at least 2 long-term and newer Assistant Professors to progress to Associate over the next 5 years. The latest rolling promotion system has already reaped positive results in the area of women advancing to Associate Professor since being implemented.
Staff consultation for AS revealed unhappiness over work-life balance, particularly for female staff members. Between Jan-Aug 2019 a workload model and reporting system was devised which is now live for all staff and will be reviewed yearly. SLCL is
also tackling this by scheduling meetings/ events within core working hours and looking at introducing smarter Teaching and Learning practices, such as e-solutions.
The AS process confirmed that SLCL has a small number of male students in most of the language and linguistics programmes (with the Business and Commerce with Languages being a notable exception). We are examining our recruitment processes
(Open Days, recruitment fairs, School outreach events), external representation and educational approaches having gathered feedback via focus groups, to promote our programmes and highlight the long-term benefits of studying languages and
linguistics.
Staff consultation highlighted that staff are not fully engaged in the university's diversity agenda due to concerns about institutional conceptions of diversity and gender. This will be addressed through information provision in the school and engagement with the EDI unit.
For further information on the School's plan to improve gender equality practices please see the full Action Plan below.
Our Achievemnts to date:
We have produced a hiring statement taking into consideration EDI issues
SLCL has embedded AS and related EDI issues into all Council and Executive meetings
We have produced an email policy for staff with awareness of EDI issues
We have invited 2 successful AS chairs to come and discuss how receiving the AS Bronze award has benefited their Schools and to take questions from members of the School
We have expanded the SAT to include a wider array of staff including male and senior staff for greater representation and to get the AS and gender equality message to resonate more clearly
We are engaging with the issues raised in our application by hearing feedback on it from the AS assessment panel which will then assist us with any re-submission
We have appointed an EDI officer for SLCL, the former SLCL EDI officer was appointed EDI representative for the Collge of Arts and Humanities
EDI dedicated pages on SLCL website.
We have worked on the SLCL staff handbook, the handbook will be published in September 2019
We established a School EDI committee chaired by School EDI officer.
We introduced a reading week during first trimester to increase staff's and students' satisfaction with work/life balance.
EDI officer regularly reports at School Councils to make staff aware of events and policies related to EDI aspects.
We published Office Hours on the School's Notice Board to make them available to students
Organisation of a workshop, facilitated by the College VP for EDI, on communicating EDI culture in the SLCL.
Creation of a webpage with EDI useful resources during Covid-19.
Organisation of an event in February 2021 discussing the definition of gender and how to embed gender in the curriculum and research
Show/hide contentOpenClose All