Adult Disclosures of Childhood Sexual Abuse: Developing Victim-Centric Policy and Practice

Dr Joseph Mooney has conducted a number of connected research projects examining the area of adult disclosures of childhood sexual abuse. These projects have focused on adults' experiences of disclosure specifically to child protection services in Ireland.
How Adults Tell: A Study of Adults' Experiences of Disclosure to Child Protection Social Work Services
Dr Mooney's study How Adults Tell, published in 2021 in Child Abuse Review has formed the basis of ongoing consultation with Tusla National Office and regional social work, therapy, and advocacy services.
Abstract: This paper presents the findings of a study examining adult disclosures of childhood sexual abuse to child protection social work services in the Republic of Ireland. Limited literature indicates that adults can have negative experiences when disclosing childhood abuse; this is primarily owing to a lack of training, policy and guidance for practitioners, and legal complexities regarding allegations of abuse. This study used a biographic-narrative interpretive method (BNIM) to gather the experiences of adults who engaged with child protection social work services. The findings were analysed using both BNIM panel analysis and open, axial and selective coding. Six main themes were identified, and the findings are discussed under three headings: (1) the system as a barrier presents the various influences that acted as barriers for adults coming forward to disclose; (2) issues of power examines the influence of power from the time of abuse throughout the adults' life courses and their interactions with services; and (3) the system as a facilitator presents practice and policy recommendations based on participants' narratives and the wider research literature. Implications for child protection practice in this extremely sensitive and sometimes controversial area are considered.
Pathways or Barriers: Aiding retrospective disclosures of childhood sexual abuse to child protection services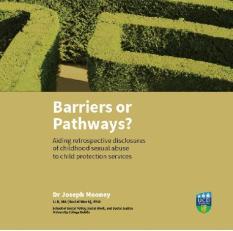 In the context of a developing legislative and policy context around child protection, in 2021, Joseph conducted research in conjunction with One in Four, the Dublin Rape Crisis Centre, and the Rape Crisis Network Ireland to examine adult's current experiences of disclosure to child protection services. This study resulted in the Pathways or Barriers report and was funded by the Irish Research Council and UCD Seed Funding.
This report was launched during a one day virtual conference entitled Disclosure of Sexual Abuse: encouragement, facilitation, and support. See multiple resources from the conference here
Joseph, along with colleagues in social work, therapy, and advocacy sectors, continues to advocate for victim-centric models of practice and policy design. Joseph has contributed to both national and regional radio and print media, including an authored opinion piece in the Irish Examiner. Joseph presents his work to international, national, and community-based fora.
Contact the UCD School of Social Policy, Social Work and Social Justice
Hanna Sheehy-Skeffington Building, University College Dublin, Belfield, Dublin 4, Ireland. T:
+353 1 716 8198
| E:
sp-sw-sj@ucd.ie
|
Location Map