In this project an atmospheric pressure plasma jet system known as PlasmaStreamTM is used to deposit functional coatings on steel. The atmospheric pressure RF (17- 19 kHz) discharge is formed between two bare metallic electrodes. Liquid precursors are fed as droplets into the plasma using a pneumatic nebulizer. The jet is moved over the substrates using a computer numerical control (CNC) system. Amongst the precursors for the adhesive coatings (plasma polymerised primer) is a combination of tetraethyl orthosilicate (TEOS) and polyhydrogenmethyl siloxane.
These liquid precursors are nebulised into a helium / oxygen plasma. The adhesion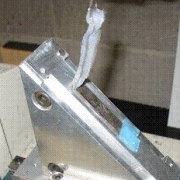 ‌‌‌‌‌‌ of siloxane elastomer to the coated and uncoated steel is determined using 45° peel strength measurements. Through the application of the nm thick coating, up to a 15 fold increase in adhesive fracture energy was obtained.
‌
An alternative application of atmospheric plasmas in absence of a deposited coating is to increase the surface energy of polymers. Arising from this increase significantly improved polymer to polymer adhesion can be obtained (Poster attached).
‌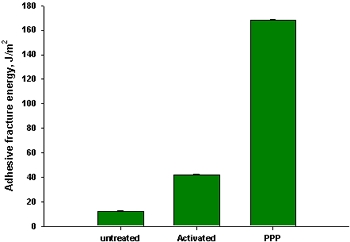 15-fold increase in adhesion between stainless steel and siloxane elastomer achieved with plasma polymerised primer (PPP).
Posters and Publications
Contact details
Prof. Denis Dowling
Director UCD Surface Engineering
Email: denis.dowling@ucd.ie
‌‌