NFOT International Workshop in Dublin, UCD, Conway Institute (12-13 October 2015).
Do not miss this great opportunity to meet some of the most influential European experts in the field and discuss potential collaborations.
New Frontiers in Ocular Therapeutics Workshop

"NFOTW" brought together clinicians, patients groups, academic scientists (chemists and biologists) and Pharma together to enhance co-operation in this field, especially in small molecule therapeutics.
Thanks to all sponsors, speakers and attendees of our "New Frontiers in Ocular Therapeutics" workshop (UCD 12-13 Oct 2015), we were able to assemble interdisciplinary experts, early career researchers and PhD students in the fields of ocular disease, ocular drug discovery, development and delivery and pre-clinical models to promote knowledge transfer, innovation and ultimately fruitful collaborations. Special sessions were held to discuss possible joint applications for the H2020 programme.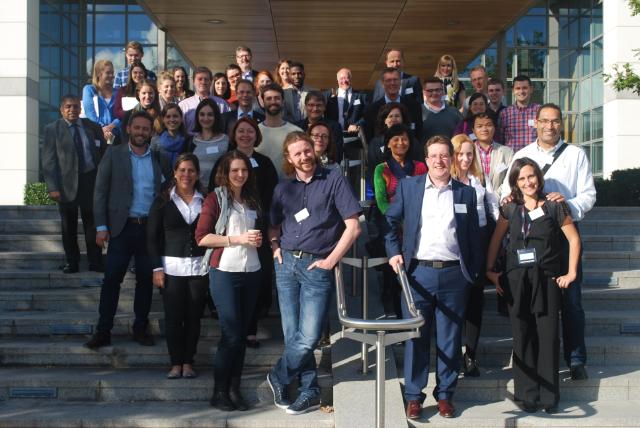 The meeting was organised in the following 6 sessions over the 2 days, which included key senior specialists and researchers of each area, as well a showcase of 8 young investigators selected among the poster presenters (see final programme attached for full details). After each session there was a Panel Discussion thanks to which many interesting questions were asked and several additional key points were discussed. A summary of main topics treated and aspects discussed during the workshop follow next:
I. Ocular Disease & Treatment
The first session consisted in an overview of most prevalent ophthalmic diseases, like Age Related Macular Degeneration and Diabetic Retinopathy, including emerging novel treatments to fight them (a critical need for patients that do not respond to current treatments by αVEGF intraocular injections). We learnt also that for responder patients worst aspect of current treatment is frequency and practicalities. Prof Andrew Lotery (University of Southamton, UK) explained us that most important for his patients is to stop vision loss and not to lose independence. Also he made us aware of the current "Tsunami" of work with 1/3 of people over 75 suffering from AMD in UK. Dr Paul Kenna (Trinity College Dublin, Ireland) spoke about genetic therapies to treat Retinitis Pigmentosa. Dr David Kent (The Vision Clinic Kilkenny, Ireland) clarified how inflammation is an essential reparative response of the body which becomes chronic in AMD, DR or other retinopathies. His therapeutic approach is based in micropulse laser surgery, converting this chronic situation into acute inflammation which will be able to heal. Prof Alan Bird (University College London, UK) closed this session with his revealing talk on AMD: an eye condition encompassing diverse kinds of patients, with very diverse hallmarks and progression patterns, denoting different origins and treatments required.
There was a Panel Discussion after each session where where many interesting questions from the floor were discussed with the experts.

II. Ocular Drug Discovery
The second session summarised all state of the art technology used in ocular drug discovery. Not all patients will respond equally to novel drugs and "personalised medicine" (genomics, transcriptomics, proteomics) can help to elucidate why. Dr Breandan Kennedy (University College Dublin, Ireland) talked about phenotype based drug screens in zebrafish, and about several ophthalmic drug leads uncovered in his lab. Dr Javier Terriente (ZeClinics, Barcelona-Spain) spoke about the expertise, assays and facilities available in his company, all based in zebrafish and focused in drug discovery. Dr Torsten Meiners (Leibniz Institute of Molecular Pharmacology, Germany) introduced the EU Openscreen Platform, and Dr Alfonso Blanco (University College Dublin, Ireland) described the Conway Core Facilities and all resources for drug discovery available in the Conway Institute.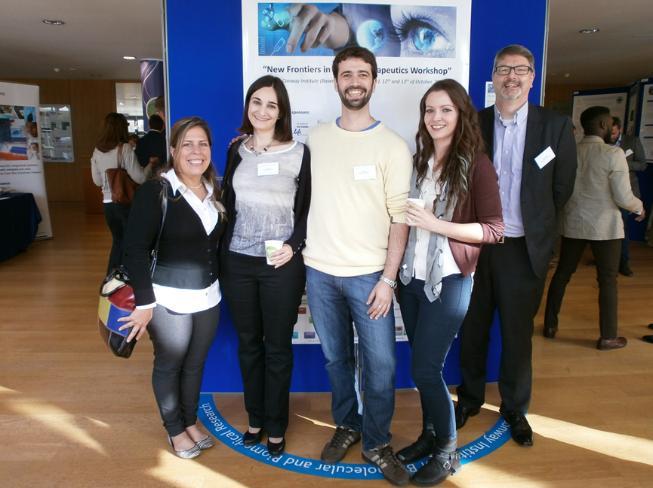 3DNET Fellows at the NFOT workshop

III. Ocular Drug Development I & Drug Delivery
The third session focussed mainly on innovative ocular drug delivery strategies, as an alternative to troublesome intraocular injections. It also included the first part of the young investigators showcase. The take home message after this session was the evident existing need of new and improved drug delivery methods to reduce costs, and increase efficacy of treatments as well as quality of life of the patient. Dr Thakur R. R. Singh (Queens University Belfast, UK) talked about the dissolvable gel micro-needles that are implanted in the sclera that he is developing. They are minimally invasive and can deliver large and small molecules intraocularly over a 6 months period. Prof Abhay Pandit (National University of Ireland, Galway) discussed the use of different biomaterials in the field. Prof Clive Wilson (Strathclyde Institute of Pharmacy and Biomedical Sciences, Glasgow-UK) discussed the need of new cheaper and better sustained drug delivery systems in ophthalmology and how to improve existing ones. Prof Breandan Buckley (ICON, Ireland) gave us a very interesting overview of the drug development process, from the discovery on the bench to the clinical trial stage, including all regulations in force.
IV. H2020 opportunities (RISE 2016)
20 people, including the workshop organising committee and researchers from companies and universities of Germany, Ireland, Spain, Sweden and UK met to discuss future collaborations. In particular, the main characteristics of RISE-H2020 programme (Research and Innovation Staff Exchange) were outlined and possibilities of joint applications for next call 2016 were explored.

H2020 Opportunities session at NFOT workshop
V. Ocular Drug Development II. Preclinical Models and Clinical Trials
This session, which included the second and last part of the young investigators showcase, was focussed on late stages of drug development and preclinical models used in ophthalmic disease. After a novel candidate reaches a preclinical or even a clinical trial phase, there is still a long way ahead involving a lot of work before the new drug will get into the market. Dr Brian Fennell (Global Biotherapeutics Technologies Pfizer, Ireland) described how antibody therapies can be optimised (lower dose, less frequency, increased efficacy) by modifying these proteins, or by using only single domain antibodies (nano-antibodies). Dr Robert Haigh (KalVista Pharmaceuticals, UK) spoke about Plasma Kallikrein inhibitors, a new promising group of compounds in clinical trials for diabetic macular edema, that block intraocular vascular leakage through a VEGF-independent mechanism. Dr Rob Jones (RenaSci, UK) explained how preclinical animal models of obesity and diabetes can be used to study different aspects of diabetic retinopathy, as well as help to identify genetic factors protecting against diabetes, despite obesity.
VII. Plenary lecture / Conway Class Seminar.
Prof Yihai Cao (Karolinska Institute Clanotech, Sweden) closed this 2 day workshop with an exceptional plenary lecture on angiogenesis and development of novel antiangiogenic drugs against diseases like retinopathy, cancer and obesity.
NFTOW dinner at the Merrion Inn

NFOTW Posters and Talks

Download the Final Programme, Posters Abstract Booklet and Bios of Speakers at the links below:
Find out more about the hosts: UCD and the Conway Institute
Download Map of UCD
Travel and Accommodation:
www.radissonblu.com/en/sthelenshotel-dublin
www.claytonhotelleopardstown.com
You can download here a pdf with directions on how to get to UCD, to the Conway Institute and to Talbot Stillorgan Hotel.
For any query please send us an email to: nfotw@dublin.com
Videos of interest:
‌

Organisers: Dr Breandan Kennedy, Dr Alison Reynolds and Dr Yolanda Alvarez
Sponsors: Science Foundation Ireland (SFI), 3DNET-IAPP Consortium (FP7 People - MSC Actions), KalVista Pharmaceuticals, RenaSci, Bio-Sciences, Life Technologies, Mason Technology, Fighting Blindness, Novartis and Fáilte Ireland.
3D NET
University College Dublin, Belfield, Dublin 4, Ireland. T:
+353 1 716 7777