EDI at UCD School of Agriculture and Food Science

Members of School of Agriculture and Food Science EDI Committee:
Left to right - Front Row
Charles Harper; Professor Olaf Schmidt; Professor Trudee Fair; Moya Ryan; Dr. Deirdre O' Connor
Left to right - Back Row
Dr. John Browne; Dr. Tomás Russell; Mark O' Grady; Dr. Nigel Brunton; Dr. Selene Pedros Garrido
The EDI committee has a membership of 17 (59% female). Committee members include staff from all four sections of the school, academics at different levels, technical and administrative staff, research staff, and students at undergraduate and postgraduate level. The Head of School is a member of the EDI committee.
The first task of the EDI committee was the completion of an Athena SWAN submission in November 2018 which led to our Athena Swan Bronze award in May 2019. Since the award the committee has broadened its role to include wider EDI elements while also working to deliver an extensive action plan developed as part of the Athena SWAN submission. In 2023, we became the first School to achieve a Silver Athena Swan Award in UCD.
The gender profile of the School of Agriculture and Food Science has changed dramatically over the last 30 years. In the early 1990s there was one female academic staff member and the student cohort was heavily male-dominated. Today there are almost equal numbers of female and male staff and students in the School.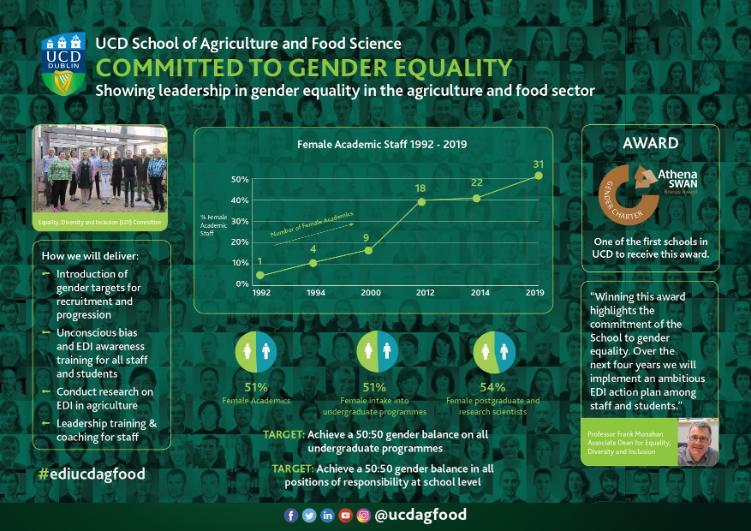 UCD School of Agriculture and Food Science
Agriculture and Food Science Centre, University College Dublin, Belfield, Dublin 4, Ireland. T:
+353 1 716 7205
|
Location Map