Cathal O'Neill Obituary
Monday, 18 July, 2022
---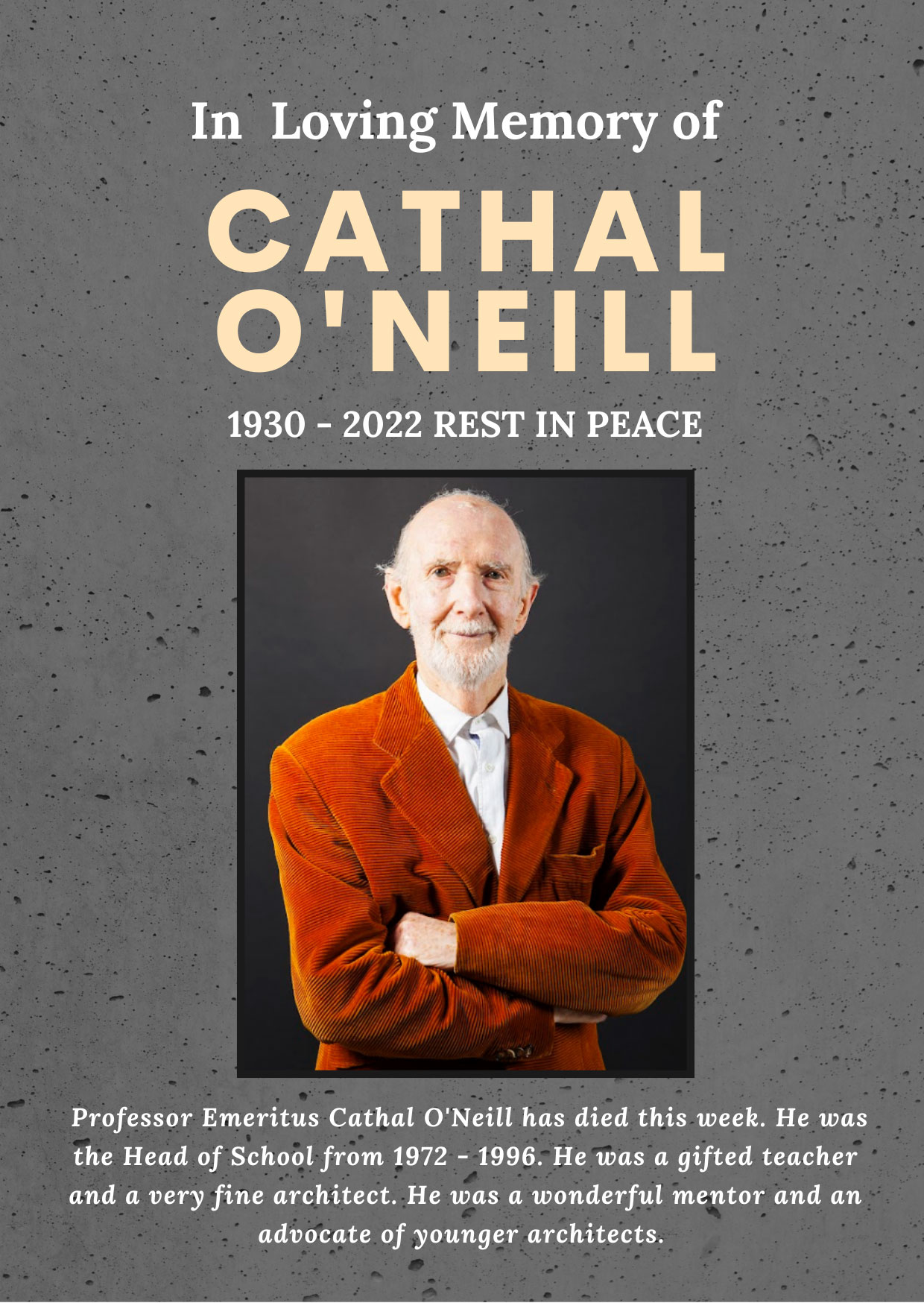 The death has occurred of Professor Emeritus Cathal O'Neill, who studied and taught at UCD and served as Head and Professor of Architecture from 1973 to 1996, when he retired.
Cathal first arrived at UCD in 1949 to study architecture and graduated in 1955. After his fourth year of study he won a travelling scholarship which allowed him to visit and study contemporary European architecture – along the way he met both Le Corbusier and Picasso, who offered to draw his portrait, the offer made in Spanish so that Cathal sadly did not understand and passed up the chance. Two years after graduation, he moved to Chicago with his wife Deirdre to study at the Illinois Institute of Technology (IIT) with the renowned German modernist architect, Mies Van Der Rohe. Cathal was to go to M.I.T. but at the last minute, he changed his mind, only then to become deeply inspired by Mies throughout his career and life. By 1957, Mies was in his seventies but continued to exert a strong influence, along with the German urban designer also teaching at IIT, Ludwig Hilberseimer.
After graduating in 1959, Cathal went to work for Mies, producing the drawings for a very fine building, the Iowa Home Savings Bank in Des Moines, USA. Midway through the project, Cathal was given the opportunity of teaching in UCD and in 1961 he returned to Ireland with Deirdre and their two children, to begin teaching and to set up his architectural practice. Hilberseimer had advised Cathal to buy a farm, raise cattle and make one house a year. No farm materialised, but he did start to design and build houses and larger-scale projects, notably a warehouse in Phibsborough (1965-69) which was widely recognised as among the finest 'Miesian' buildings in Ireland.
Cathal's contribution to, and influence on the School steadily grew over the following decade and in 1973, following a competition, he was appointed as Head. During his first phase as Head, he brought many new staff to the school, talented and motivated architects including Shelley McNamara and Yvonne Farrell of Grafton Architects, as well as Sheila O'Donnell and John Tuomey, both future professors, among many others. The effect was transformative in terms of the quality and ambition of the work produced and the graduates who emerged.
In 1980-81, Cathal O'Neill oversaw the move of the School from Earlsfort Terrace to the newly acquired site of the Masonic Boys School in Richview. The move wasn't entirely popular at the time – 'It's a Richview for Cathal and a poor lookout for the rest of us' was the line – but it proved pivotal in further improving facilities and standards and in copper-fastening the discipline's standing within the University. Cathal oversaw the adaptation of the Richview campus, including the creation of the distinctive central quadrangle, with its pleached lime trees. He went on to do further work in UCD, namely the Chaplaincy building and the renovation of Roebuck.
During Cathal's time in Richview, the School's research activity grew significantly, especially though the work of Professor Owen Lewis's Energy Research Group. Convinced of the importance of public engagement with architecture, Cathal O'Neill oversaw a number of important exhibitions and publications. Notable among these was the Dublin City Quays project from 1986, whose arguments for a living city, for respect and renewal of the historic urban fabric were both prescient and timely.
For generations of students, and for the faculty and staff, Cathal defined the character and ethos of UCD's School of Architecture. He was described by Shelley McNamara this week as 'the perfect host', not just because he was such an easy, convivial presence; nor simply for the gatherings and events he organised, or the garden parties held in his family home on Clonskeagh Road; but for his ability to draw diverse talents and voices together and to bring out the best in them. He was equally nurturing with students. From when he met them as first years on the first day of their course, he engendered a passion and enthusiasm for architecture in them, largely by demonstrating his own. He insisted on architecture's important role in society, its serious responsibilities and its endless possibilities.
He was a tireless champion of the School's graduates and faculty, and continued to take great pleasure and pride in their achievements after his retirement as Head in 1996. Cathal continued to work in the practice set up with his son Garrett, Cathal O'Neill & Associates, just last November (2021) placing an ad in the Irish Times noting that, to mark his 91st birthday, he was taking the day off work! He was a keen watercolourist, whose paintings of the city were published as Cathal O'Neill's Dublin in 1999, and he sent the best cards and postcards, elaborated with his own drawings.
Cathal's immense contribution to UCD Architecture was mirrored by his own continuing interest in and commitment to its activities . Most recently, this has resulted in a fund being established in his honour, facilitated by his generosity, to hold an annual lecture and to support students with the costs involved in studying architecture such as equipment, field trips and travel – experiences which were so seminal in his own education. The inaugural lecture will take place in October 2022, with further details to be announced in due course.
Professor Cathal O'Neill's death will be mourned by all who knew him at UCD, but his legacy endures in the buildings he designed, the students who he taught and the staff who he encouraged and supported.
Contact the School of Architecture, Planning & Environmental Policy
Newman Building, University College Dublin, Belfield, Dublin 4, Ireland. T:
+353 1 716 7777
|
Location Map