Experimental Archaeology in Northwest Europe: Principles and Potential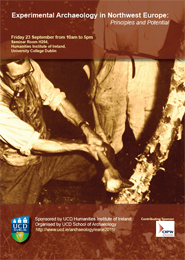 Friday 23 September from 10am to 5pm
Seminar Room H204
UCD Humanities Institute of Ireland
University College Dublin
Ireland
Experimental Archaeology has recently re-emerged as an approach enabling us to think about the past in practical ways, while it also has potential for engaging modern communities with archaeological knowledge. This one-day seminar, organised by Aidan O'Sullivan, UCD School of Archaeology and Thomas Kador, The Cultural Learning Initiative and sponsored by the UCD Humanities Institute of Ireland, will bring together some of the leading experts and projects in Ireland, England, Wales, Scotland, and Denmark and their papers will focus on recent developments and advances in Experimental Archaeology in Northwest Europe and how it might be developed further in coming years.
Professor Martin Bell, University of Reading
Dr Linda Hurcombe, University of Exeter
Dr Steve Burrow, National Museum of Wales, Cardiff
Dr John Barber, AOC Archaeology Group
Declan Moore, Moore Archaeological and Environmental Services
Dr Ronan O'Flaherty, National Heritage Park, Ferrycarrig
Triona Nicholl, Sagnlandet Lejre, Denmark
Preben Rather Sørensen, Viking Ship Museum, Copenhagen
The key themes on the day included:
Basic Principles and Best Practice
Houses and buildings
Ships
Technologies
Agriculture
Public outreach and communication
Sponsors
This event is sponsored by the UCD Humanities Institute of Ireland, the Office of Public Works (OPW) and UCD School of Archaeology.