Studying Undergraduate Archaeology
Why study Archaeology?
Archaeologists use the evidence from the last three million years to investigate what it means to be human. Archaeology's long perspective provides unique insights into the developments that have shaped our modern world, helping us to understand issues that are critical for our future, such as migration, inequality, climate change, food security and conflict.
Are you interested in studying Archaeology at UCD? Assistant Professor Neil Carlin and current student Hannah Costello explain what the course is like, what you will be studying each year, and what it's like to be an Archaeology undergraduate student at UCD.
As a student of archaeology, you will catch tantalising glimpses of vanished cultures and societies that were very different from our own. Through exploring the past you will gain a sense of the extraordinary diversity of human experience and knowledge.
Archaeology is unique as a subject because it combines humanities, arts, social sciences and sciences. Studying Archaeology requires you to evaluate, explain and make connections between multiple different sources of evidence ranging from ancient artefacts and monuments to the scientific analysis of plants, animals, and materials. Archaeology students develop a flexibility of thought and a unique mixture of transferable skills like critical thinking, report writing, teamwork and communication skills. Through these activities you will learn and challenge yourself.
Studying Archaeology is fun, challenging and rewarding. However, not everyone who studies Archaeology chooses to pursue a career in the subject. Some find employment in the archaeological profession, heritage sector and museums, but many have used their transferable skills to excel as business and industry entrepreneurs, policymakers in arts and education, journalists, civil servants, cultural critics and tourism leaders.
Why study with us?
UCD School of Archaeology is a friendly and exciting place to study. The 2020 World University Subject Rankings place us within the Top 100 Schools of Archaeology worldwide and first nationally. We explore not only the archaeology of Ireland and Britain, but also of continental Europe, the Mediterranean, North America, and East and Southeast Asia. As an undergraduate, you will belong to a community of fellow students and scholars that form part of a centre of excellence for the teaching and research of Archaeology.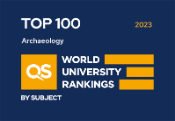 Further information, such as entry requirements, can be found as part of the online prospectus and MyUCD.
Ways of studying Archaeology
There are several ways of engaging with archaeology and more details can be found in the online prospectus links below. Even if you do not follow a degree path you may also be able to take archaeology modules as options.
Classics, Art History and Archaeology (BA 4 Years) - Details of the programme can be found here >>
Students wishing to undertake Single Honours in Archaeology can do so on the four year BSc Programme by transfering to single honours at stage 2 - for more information on this pathway see here >>
You may also take Archaeology as a structured elective - more details can be found here >>
Information for International Study Abroad students can be found here >> - and details of the archaeology modules available here >>