Studying Undergraduate Archaeology
Why study with us?
UCD School of Archaeology is a friendly and exciting place to study. Archaeology is a fascinating subject that can inspire passionate interest and a life-long curiosity about the past. Students of archaeology catch tantalising glimpses of vanished cultures and societies that were very different from our own. They gain a sense of the extraordinary diversity of human experience and knowledge. Archaeology is also about the present. Ancient places and objects are frequently used as the basis of modern identities and surviving archaeological remains are the focus of debate between conservationists and developers. Ireland's thriving heritage tourism industry relies heavily on the advances made by archaeology.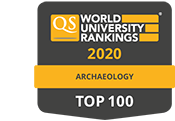 Further information, such as entry requirements, can be found as part of the online prospectus and MyUCD.
Current information for new and returning undergraduate students, including COVID-19 special arrangements can be found here >>
Ways of studying Archaeology
There are several ways of engaging with archaeology and more details can be found in the online prospectus links below. Even if you do not follow a degree path you may also be able to take archaeology modules as options.
Students wishing to undertake Single Honours in Archaeology can do so on the four year BSc Programme by transfering to single honours at stage 2 - for more information on this pathway see here >>
You may also take Archaeology as a structured elective - more details can be found here >>
Information for International Study Abroad students can be found here >> - and details of the archaeology modules available here >>
Pathways to studying archaeology @ UCD

PDF

|