Congratulations to Dr Barry Molloy, UCD School of Archaeology, on his very prestigious European Research Council
Congratulations to Dr Barry Molloy, UCD School of Archaeology, on his very prestigious European Research Council (ERC Consolidator) award of €2 million for his project entitled, 'The Fall of 1200 BC'. Dr Molloy was until recently a Marie Curie Research Fellow at the School of Archaeology and its Centre for Experimental Archaeology and Material Culture.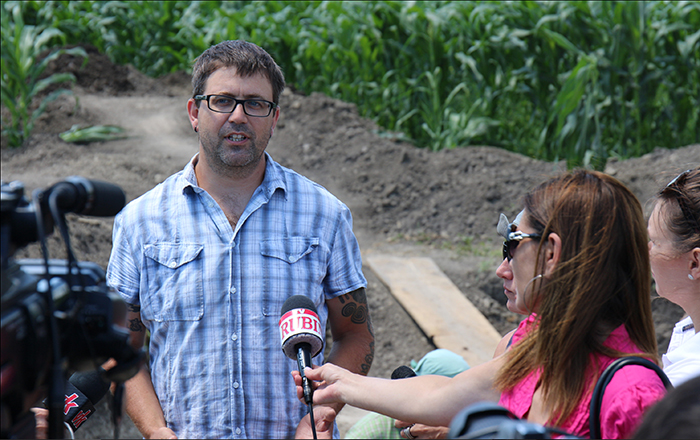 Dr Molloy will receive his funding for a study entitled, 'The Fall of 1200 BC'. Looking to the era and peoples of the epic Trojan War tales, this project will explore the collapse of Europe's first urban civilisation in the Aegean and proto-urban groups of the Balkans at the end of the Bronze Age (ca. 1300-1000 BC). In particular it will focus on the role of migration and conflict as factors shaping rapid social change and so the project aims to uncover the human face of this turning point in European prehistory.
'The Fall of 1200 BC' research team, led by Dr Molloy, will examine the remains of the people who experienced that crisis first hand and their material world to better understand the effects that the movement of people, and the spread of new traditions, had on their social worlds. With a focus on understanding the social context of ancient mobility, the project will evaluate social networks through which cultural traditions moved within and between distinct societies of the Balkan peninsula and surrounding lands.
To achieve this, regionally particular ways for making and using material culture (for example metalwork and pottery) will be analysed to explore how practices were exchanged and how new types of objects shaped, and were shaped by, changing contexts of use.
Dr Barry Molloy, whose research focus is on Mediterranean and European prehistory said, "I am delighted to receive this prestigious ERC Consolidator Grant which will enable me to build a new research team of 5 PhD students and post-docs to carry out cutting-edge social science research at University College Dublin". He added, "The funding for this project will allow us to explore historic realities behind hotly debated ancient tales of migrations for the first time by using recent advances in genetic and isotopic methods that can measure human mobility. Looking at how the dead were honoured - or not - by the people who buried them will be a key factor that will enable cutting edge science to help define relations between personal mobility and status, gender, identity and health. This will provide new insights into social scenarios in which people moved between groups".
He concluded, "Ultimately, I want to learn if the movement of people and new types of conflict were catalysts for, or consequences of, unstable social systems, leading to the collapse of these early complex societies".
ERC Consolidators Grants are awarded under the 'excellent science pillar' of Horizon 2020, the European Union's research and innovation programme. Researchers of any nationality with7-12 years of experience since completion of PhD, a scientific track record showing great promise and an excellent research proposal can apply for an ERC Consolidator Grant.
The ERC evaluated over 2,500 research proposals in this latest competition, 13% of which will be funded. The grantees will carry out their projects at universities and research centres in 22 different countries across Europe. The grants will create an estimated 2,000 jobs for postdocs, PhD students and other staff working in the grantees' research teams.
Professor Orla Feely, UCD Vice-President for Research, Innovation and Impact said, "I would like to congratulate Professor Susi Geiger and Dr Barry Molloy on receiving prestigious ERC Consolidator Grants. Their success in this highly competitive, and Europe wide, funding call, is indicative of the quality of the world class research being carried out at UCD".
Carlos Moedas, European Commissioner for Research, Science and Innovation,said,"The Horizon 2020 programme will be funding 329 new ERC grants with €630 million to boost the EU's scientific excellence and competitiveness. Such grants contribute to increase the EU's attractiveness as a place for research and innovation. I'm also pleased to see that the share of grants attributed to women researchers is growing in ERC competitions. We still have much to do, but it has always been my ambition to deploy all efforts possible to make gender equality a reality in the realm of research and innovation".
Further details on the latest ERC Awards are available via https://erc.europa.eu/news/erc-2017-consolidator-grants-results.