Looking Up: the future of early prehistoric heritage in Europe's
mountains
Sept 2021 - August2023
Principal Investigators:
About the project
Looking Up is a collaboration between Graeme Warren (UCD School of Archaeology) and Sam Kelley (UCD Earth Sciences) with Alice Doughty (University of Maine) running Sept 2021 - August2023.
Looking Up will utilize knowledge about deglacial landscapes to provide new data and methodologies to identify and manage early prehistoric archaeological remains in Europe's mountains. This will directly inform policy debates surrounding the conservation of mountain landscapes/ecosystems and management of montane cultural heritage.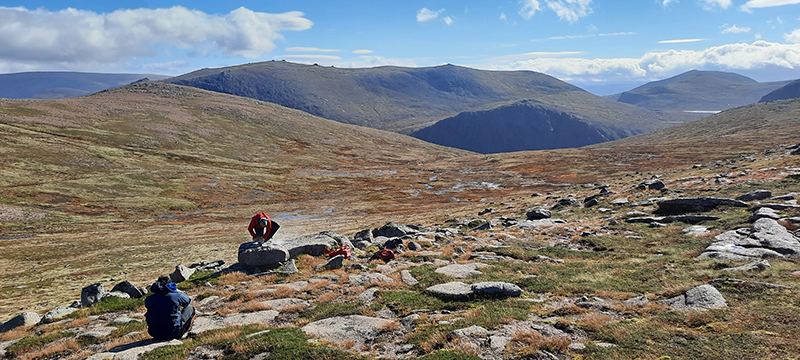 Fieldwork in Coire Raibeirt, 2021
SDG15.4 seeks to "ensure the conservation of mountain ecosystems, including their biodiversity, in order to enhance their capacity to provide benefits that are essential for sustainable development." (https://indicators.report/targets/). A key Indicator is 'green cover', through 're-wilding' movements or plantations. Changes to tree-cover/distribution in mountainous regions has significant detrimental impacts on early prehistoric archaeological sites. Vegetation changes also risk obscuring the geologic record of change, which provides context for ongoing landscape evolution. Unfortunately, our knowledge of the distribution and extent of both sources of evidence is limited. Highland sites are poorly understood and difficult to find. This knowledge gap means that informed application of policy and management of mountain landscapes is not possible. These sites are presently at considerable risk. We provide a new approach to these problems through an initial case study in the Cairngorm Mountains, Scotland.
Looking Up will provide:
New data on Late Glacial and Early Holocene landscape evolution through fieldwork, geochronology, and numerical modelling.
Informed by this, and synthesis of data on hunter-gatherer use of mountain landscapes elsewhere, we will generate predictive models of archaeological site location
Field reconnaissance will explore these predictions.
Reporting to key stakeholders to inform the development of policy and local management
Development of outreach to promote this new knowledge.
Mountain landscapes throughout Europe contain significant cultural/natural heritage. Preserving this heritage as part of the sustainable development of these dynamic landscapes urgently requires new approaches and new data. Looking Up's replicable methodology can be extended to other European landscapes.
Funded By:
Project is funded by the Irish Research Council Coalesce Strand 2A (2021-2023). For details of the IRC Coalesce (Collaborative Alliances for Societal Challenges) scheme see https://research.ie/funding/coalesce/