Forged In Fire: Craft, Industry and Society in Early medieval Ireland, AD 400-1100
PhD Candidate:Brendan O'Neill
Supervisor: Professor Aidan O'Sullivan
Funded By: Irish Research Council
Abstract
Irish early medieval settlements provide rich evidence for a range of craft and industry activities requiring the controlled use of fire. The primary evidence from archaeological sites includes hearths, open-fires, pits and pit furnaces and forging areas. Yet these distinct features were often reused for different activities over time, complicating any interpretation of the remaining archaeological and geochemical signals.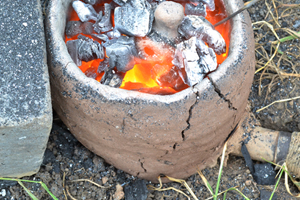 ‌
Within UCD's Centre for Experimental Archaeology and Ancient Technology, this project will seek to untangle this confused picture. Early medieval features relating to metal-working, ceramic production and food preparation will be reconstructed based on archaeological source material and used within controlled locations in order to discern the specific 'signature' of each. Sectioned features, associated waste materials and geochemical analyses will be used to understand the potential differences between each activity group and individual feature within each group. Further, current prevailing archaeological theories will be tested, the results of which can be immediately fed into current archaeological excavations and materials analysis.
Within the first year of this PhD geophysical, soil (conducted by Teagasc, Johnstown Castle), insect, floral and historical surveys have all been undertaken on the working area, providing a base line for the research to follow. In the second year, experimentation will begin in earnest with copper-alloy activity group and spread to iron working, ceramics and food over the following eighteen months. Once complete, the site will be left to settle for several months and then analysed.
Although this project is focused at examining craft and industrial activities specific to the Irish early medieval period, its potential implications are much wider. The interpretation of archaeological features associated with fire based activities is an international issue and understanding the interaction between activities and their immediate vicinities is crucial to refining our understanding of past peoples.