Doing Business with China: The Irish Advantage and Challenge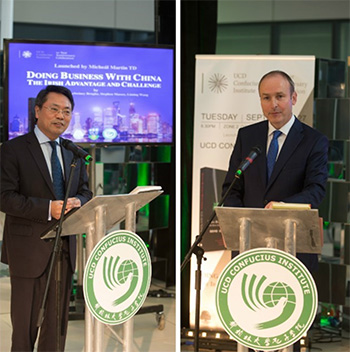 This book is based on a survey involving more than 500 Irish companies and individuals, as well as 47 in-depth interviews, by a research team composed of both Irish and Chinese scholars with different research backgrounds. The book emphasises Ireland's favourable conditions for developing business links with China. Located in the European Union, Ireland is the only English-speaking country in the Eurozone, with a well-educated workforce and a low corporate tax rate of 12.5%. It is also a militarily neutral country. Less well-known is that Ireland is highly regarded in China because of the Shannon free trade zone, which as the first of its kind set the model for China to establish its special economic zones, significantly contributing to its economic boom.
To an extent, Ireland and China share similar socio-cultural traditions, which has made understanding and communication between both nations easier in comparison to many other Western countries. Irish people also appear to have the ability to negotiate between Western and Chinese cultures, which helps them to overcome inter-cultural challenges, and so Irish business people have tended to succeed in China more than might be expected.
However, there are some barriers that may prevent Irish business people from taking advantage of the opportunities to achieve greater success in China. The authors identify the issues that need to be considered by the Irish government and civil servants – in particular, a China-focused national strategy and policy, as well as high quality public services – and propose recommendations to overcome these challenges.