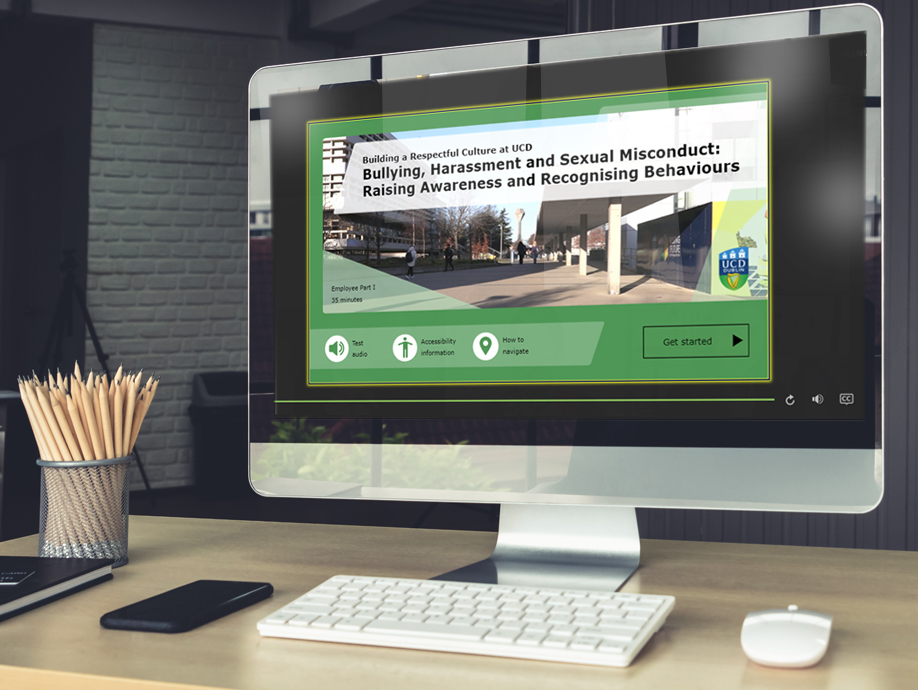 Building a Respectful Culture at UCD (online employee course)
The course is available to all employees under "My Modules" on Brigthspace and takes about one hour to complete. It consists of two parts:
Part I "Bullying, Harassment and Sexual Misconduct: Raising Awareness and Recognising Behaviours"

Part II "Bullying, Harassment and Sexual Misconduct: Supports, Options and Being Active Bystanders"
To complete this course, you need to complete Part I and Part II. Follow the steps listed below under "show more" if you are new to Brightspace.
The online course Building a Respectful Culture at UCD for all employees was developed by UCD Equality, Diversity and Inclusion in collaboration with The Learning Rooms, who help organisations design, build and deliver engaging online learning experiences. The course was created to raise awareness about bullying, harassment and sexual misconduct and to assist all employees impacted by these issues. We want to ensure that there is a common understanding of inappropriate behaviours and of everyone's responsibility to be active bystanders and to contribute to a culture of dignity and respect. The content was developed with eLearning experts based on current UCD Policies and after extensive consultation with the UCD community.
How to find the eLearning:
Open UCD Connect
Click on the Brightspace Icon (top right)
You should see the course "Building a Respectful Culture at UCD" under "My Modules"
If you have a number of courses under My Modules, you may need to click on "View all my Courses" at the bottom and search for the course using the title
Click on the course title and click on "My Learning" on the blue banner (top left)