Testimonials
Graduate Testimonials for MSc Information Systems & Masters in Library & Information Studies (MLIS) 2017
Jesse Waters, Masters in Library and Information Studies (MLIS).



"I am currently working in the Glucksman Library at the University of Limerick in the very enjoyable role of Librarian for Student Engagement & Success. I have worked previously at Trinity College Dublin and the Royal College of Surgeons Ireland.
I completed the MLIS full-time in 2015 and would highly recommend the course to anyone interested in pursuing a career in librarianship. Give careful consideration to the modules you choose - I may have chosen a module or two that I was not 100% invested in. Cast your net far and wide because you never know what area of librarianship you might find yourself in down the line.
Lecturers and staff were very helpful and interested in the students. I always wanted to discuss how I might approach assignments everyone was willing to offer feedback and advice during class, afterward, or via email. This really is invaluable when completing any postgraduate programme. I would advise to seek out their expertise.
I was also lucky to meet, study with, and befriend some very talented people who were dedicated to the profession. Many of my classmates went on to earn interesting roles and establish themselves as very competent librarians. The group SLIP (Student Librarians and Information Professionals @SLIP Ireland) for example was formed by students from this year.
The capstone project provided a great opportunity to work in collaboration with others. I was fortunate to work on a project that really interested me which involved sourcing and creating digital content for a mobile application about the 1916 Rising. Working on a collaborative project, which contributed quite a large percentage of our overall grade, was stressful and enjoyable. I may not have recognised it at the time, but it provided an opportunity to develop a range of skills required for professional life including project management, conflict resolution, decision making, and communication skills. These are all very relevant to me, particularly in my current role where I find myself interacting with many other non-library UL staff.
Overall, I thoroughly enjoyed the MLIS, and while it was a very busy year. It was a very worthwhile decision to study at UCD."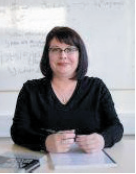 Odile Dumbleton, MSc Digital Information Management.
"The choice to study Digital Information Management was for me, an easy one. I got my MLS in 2008, but my technology skills needed an update. At UCD I was able to get an MSc for half the price of a Digital Information Management Professional Skills Certificate in the United States. I was fortunate to choose a programme developed and led by Dr. Cushing at UCD's School of Information and Communication Studies and one that has been shortlisted for, GradIreland best new Postgraduate course 2017 and European Digital Skills Awards 2017. The comprehensive program was both theoretical and practical, and the connections I made are invaluable. It was such a great learning experience that I decided to continue on and pursue a PhD on the topic. This is the only Digital Information Management program in Ireland, and the value is amazing. UCD also participates in the United States Department of Education's Student Loan programs, so funding was not an issue. In the end I paid a third of what I paid for my MLS in the United States, and I was afforded the chance to travel, and make international connections with others in the Digital Information Management community."
Conn Corrigan, UCD Data Journalism - RTÉ Investigations Unit.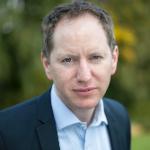 "I really enjoyed my year spent with UCD Data Journalism. It was very practical and it really helped me think about how to get the most out of data, in terms of journalism and storytelling. It was also really helpful in terms of thinking of new ways to visualise a data-driven story."