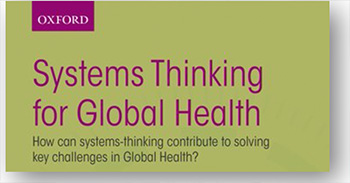 JaSt's Assoc. Profs. Hasheem Mannan & Naonori Kodate will get together with Prof. Tony Holohan, their co-editor/co-authors and the community to mark the publication of the book.
The seminar is being organised by UCD School of Social Policy, Social Work and Social Justice, UCD Centre for Interdisciplinary Research, Education and Innovation in Health Systems,Trinity Centre for Global Health, UCD School of Nursing, Midwifery and Health Systems & UCD Centre for Japanese Studies.
Bringing together a global and multidisciplinary team of experts, this volume outlines the core concepts of a systems-thinking approach and how they can be applied to current Global Health problems. It provides a comprehensive range of case studies, reflections, conceptual pieces, and methodological approaches. Please join us for an evening to mark the release of this global collaborative effort.
Register here: https://www.eventbrite.ie/e/systems-thinking-for-global-health-ireland-book-launch-tickets-560680980907